Create your own Custom Pontoon Boat Layout
Create your own Custom Pontoon Boat Layout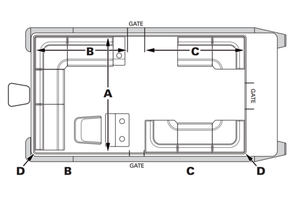 Following these simple steps will make ordering new pontoon boat furniture and pontoon boat accessories a breeze.
CHECKLIST:
Measure "A" distance between Port and Starboard rails. (add 1" extra spacing for vinyl and foam). Most boats are 89" to 93".
Measure "B" distance between rear rail and side gate. 
Measure "C" distance between front rail and side gate. 
Check corners "D" - round or square?
NOTE: Measure inside of rails and account for rail support braces.
Gated Rear Entry Pontoon Boats

8 foot wide Boats are generally 89-91" between the railings.

8 1/2 foot wide Boats are generally 95-97" between the railings.

Rear Gate Areas Typically Take up 24" for the Gate and another 3-4" for the Gate Railing. (27-28
All information provided by Wise Manufacturer - http://www.wiseseats.com/#!marine/c53v