Never Get Caught Out in a Storm Download This Free Weather App
Never Get Caught Out in a Storm Download This Free Weather App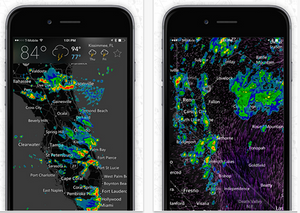 MyRadar is a fast, easy-to-use, weather application that displays animated weather radars around your current location, allowing you to quickly see what weather is coming your way. Our High Definition Doppler radar data is processed from raw NOAA weather radar data from the National Weather Service / NWS using our custom-designed, proprietary systems and software, offering the clearest, sharpest, most accurate and most up-to-date reflection of precipitation available... easily accessible at the tap of a finger on your mobile device.

Just start the app, and your location pops up with animated weather, allowing you to easily see if rain or snow is headed your way. Our high-res animated radar helps you see weather details even at the closest level!

What's great about MyRadar is that the map is easily zoomed and scrolled around with the flick of a finger, allowing you to quickly check the weather in other parts of the country, including Hawaii & Puerto Rico!

On top of the basic weather forecast, users can get a quick glance of temperatures around the country, as well as overlay a current satellite image of cloud cover. For you aviation buffs, there's a layer that provides Airmets & Sigmets, and even the ability to overlay the flight plan of a particular aircraft onto the map. You can also share interesting weather photos from your area, and see photos other users have contributed neatly displayed on the map.

Additional options include weather warnings and alerts, complete with push notifications, to warn you of severe weather in your area. Great for the start of thunderstorm and tornado season! There's also an optional hurricane tracker, providing excellent details and projections for the path of storms as the season looms near.

MyRadar currently shows weather for the United States (including Alaska, Hawaii, and Puerto Rico, when HD Radar is enabled).

Download MyRadar today and try it out!