4 Common Mistakes Boaters Make | Pontoon-Depot
4 Common Mistakes Boaters Make | Pontoon-Depot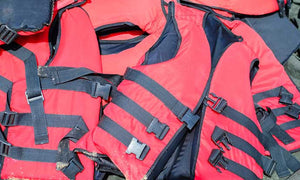 Mistake 1: Underestimating What It Takes to Operate a Boat
Both experienced and novice boaters can underestimate the level of knowledge, skill and experience required to operate a boat effectively and safely. From trailer­ing and launching, to safe anchoring, to docking and undocking, the equipment, navigation, handling and rules of the road are completely different than on land. Serious accidents, including swamping and capsizing, often result from simple failures such as loading a boat properly and within capacity or anchoring safely. Studying the rules of the road, getting safe boating instruction, and ensuring you know and understand your boat are all key to avoiding accidents.
Mistake 2: Inattention
The beauty and fun of being on the water can make boating seem carefree and effortless. A brief lapse in attention is often behind groundings, collisions and capsizing. Many accidents occur late in the day, when operators are fatigued. Many involve collisions with markers, jetties and other obstacles that are visible and avoidable. The water may seem calm and familiar, but operator attention and diligence are vital.
Mistake 3: Boating Under the Influence
Fun, relaxation and friendship go hand in hand with boating. While no amount of alcohol is safe for a boat operator, the sun and fun that make boating so enjoyable can also make alcohol more dangerous for passengers. Dehydration, physical exertion and fatigue can accelerate and amplify the effects of alcohol, more quickly impairing judgment and coordination, which increases the chances of risky behavior and injury, and the danger of falling overboard. Intoxicated individuals on board pose an increased risk of injury to themselves and others.
Mistake 4: Failing to Recognize Risks
Bad weather, unfamiliar locales and hazardous waters are risks that boaters sometimes fail to account for. Responsible boaters learn to respect the weather and to check conditions prelaunch and while on the water to avoid sudden storms. While exploring new areas is part of the fun, it's smart to check with local boating authorities if you're heading out on an unfamiliar body of water. They can point out known hazards and offer navigation tips.
Mistake 5: Underpreparing for Emergencies
Filing a float plan and ensuring that proper emergency and communication equipment are present and working are essential safety precautions. But preparation only begins there. Passengers, as well as the operator, need to know basic emergency procedures, how to communicate and how to use emergency equipment if the operator becomes incapacitated. Practicing with equipment is particularly important, as every moment is precious in an emergency. It's smart to have all aboard know and practice the basics of safe rescue techniques for a person in the water (PIW) (or "man overboard"). Finally, ensure that everyone aboard wears a life jacket at all times. If something goes wrong or there is a fall overboard, there is often no time and no way to access a life jacket.
The Coast Guard provides a wide range of safety information and resources through its Boating Safety Resource Center. For more information, visit uscgboating.org.