Anchor - The New "Uber" for Boating
Anchor - The New "Uber" for Boating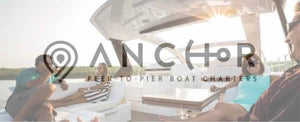 Have you ever thought that it might be nice to use your pontoon boat as a source of income like those ride-share services on land? Well, your dream is now becoming reality with the new Anchor App.
Launched in the summer of 2017 out of Lake of the Ozarks in mid-Missouri, Anchor provides a boat-on-demand service on waterways. So, if someone needs to get from one dock to another across the lake, they can essentially charter a water taxi to get there, and the driver could be you.
Passengers can request you take them straight to their destination or, if you're willing, you can stop for them to swim a bit, or take a joy ride on the water. The idea is, first and foremost, water safety. Some lake tourists have no idea how to navigate the waters that you're accustomed to, so this gives them the opportunity to rent a boat but still be safe, and for you to make a little money just being out on the water.
You can sign up to be a driver on the Anchor website; you need a valid driver's license and, well, a boat. Depending on the laws in your area, you may also need a boater's license, but that's something you should already have if it's required in your state. Since the app and program are relatively new, you may be one of the first to help launch it in your waterways!
You determine how available you want to be for passengers. You decide when you're "working" simply by turning on the app and logging in, and logging out when you're done for the day. You make your own hours. 
Why not make some extra bucks while getting more time on the water? If you like meeting new people, it's a win-win!