Fishing Has No Boundaries | Pontoon Depot
Fishing Has No Boundaries | Pontoon Depot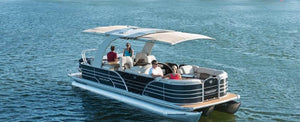 Special programs and custom boats help disabled boaters get out on the water.
By: Dan Armitage
Photo By: www.iboats.com
The boater profiles in Boating Without Boundaries were inspired by a blog I wrote about a national organization called Fishing Has No Boundaries (FHNB), with a local chapter that holds a fishing event each June at the pontoon owners' club to which I belong.
Members donate their time and the use of their boats to FHNB so volunteers can spend the day boating with people who have special challenges.
Pontoon boats are especially popular among captains who host friends and family members who may have limited mobility, offering stable platforms and level decks that are often surrounded by fencing with wide gates. Aftermarket boarding ramps are available to allow wheelchair access from docks and shore, and several pontoon manufacturers offer extra-wide gates as an option in order to accommodate wheelchair-bound boaters.
Metalite Industries (met​aliteind.com) in Spokane, Washington, offers an Enabler model pontoon designed and customized specifically for boaters who need wheelchair access or have other special needs that require special adaptations to the boats. Campion Boats (campionboats.com) has generated admirers of its special-needs adaptations after a video shared on YouTube showed Andrew Streeter's process using the Campion lift system that the British Columbia-based boat manufacturer developed to allow him to get back on the water (boatingmag.com/wheelchairboat).
FHNB is based in Hayward, Wisconsin, which is also the hometown of the National Freshwater Fishing Hall of Fame, and has chapters nationwide. To learn more about the FHNB program and a chapter near you, contact the organization at 800-243-3462, at PO Box 175, Hayward, WI 54843, or at fhnbinc.org.