How to Clean and Polish Aluminum Pontoons | Pontoon-Depot
How to Clean and Polish Aluminum Pontoons | Pontoon-Depot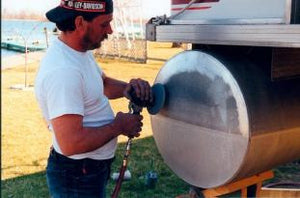 Pontoon boats look amazing when they are shiny and new. Regrettably the aluminum pontoons begin to streak and stain from the water and atmospheric, pollutants. The questions that pontoon boat owners constantly ask are:
1. How to polish aluminum?
2. How to clean aluminum?
The traditional way of cleaning aluminum and polishing aluminum with corrosive aluminum cleaner and abrasive aluminum polish is hard, dirty work and takes a long time. ALUMABUFF works both chemically and mechanically. When you use it with the special ALUMABUFF PADS and a LINEAR BUFFER, it quickly restores the aluminum pontoons to their original appearance.
For More Information visit:
https://www.auroramarine.com/alumabuff