Manitou Receives 18th Consecutive NMMA CSI Award...
Manitou Receives 18th Consecutive NMMA CSI Award...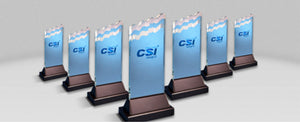 ...For Customer Satisfaction
Lansing, Michigan – Manitou Pontoon Boats is delighted to announce that they are once again a recipient of a Customer Satisfaction Index (CSI) Award from the National Marine Manufacturers Association (NMMA) for exceptional customer service. The 2018 Marine Industry CSI Award in the Pontoon Boats category marks the 18th consecutive CSI awarded to Manitou Pontoon Boats. This makes it every year since the awards inception. 
The NMMA, the nation's leading boating trade association, represents a wide range of businesses in the marine industry. They recognize manufacturers that actively monitor and measure customer satisfaction levels and then take actions to further improve customer satisfaction. The CSI Awards only recognize boating manufacturers that maintain an independently measured standard of excellence of 90 percent or higher in customer satisfaction. 
"Receiving the 18th consecutive award is an honor. We have built pontoon boats for over 30 years now; we would not be able to say that without happy customers and the best employees in the industry. The CSI program allows us to monitor our product satisfaction in near real time which is Critical to improvement" said Cory Highfield, General Manager of Manitou Pontoon Boats. 
Manitou understands that connecting with its customers to identify their personal needs on their pontoon boats is essential to providing them with the best customer service experience possible. We use this information to more accurately grade a customer's opinion of their new pontoon boat, and to improve customer satisfaction moving forward.
For All Your Accessories and/or Vinyl Flooring Visit Pontoon-Depot's Shop Site.