My Pontoon Boat Dealer Is The Best! - Seeking The 2019 Winner ?
My Pontoon Boat Dealer Is The Best! - Seeking The 2019 Winner ?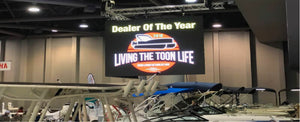 Unfortunately it is that time of year again as the 2019 boating season starts to wind down for many of our friends. This past summer has been great, with so many families out enjoying the Pontoon Lifestyle in their local waters. Along with another amazing season enjoying our favorite pastime, we can all relate to working with our local Pontoon Boat Dealer at one point or another. From the spring maintenance services, like changing the fluids, replacing the impeller in the water pump, or the new shifting cable ? Maybe it was the bearing replacements on the trailer ? It may have also been the new tube for the kids to ride that  you picked up at your local dealer? - it may even have been the new or used Pontoon Boat that your family purchased?
Well our team at Living The Toon Life want to hear from YOU! This year we decided that we would reach out to our friends & fans, asking them; Who Should Be The 2019 Pontoon Boat Dealer of the Year ??????  
We spend countless hours researching the Pontoon Boat Industry. From manufacturer product updates, review consumer issues & concerns, marketing strategies, boat shows, dealer meetings, new product reviews and much more. However, one our most important categories are social media - The big open line of communication, that we all frequent on a daily basis. With the many different Pontoon groups on Facebook, where everyone enjoys networking with like minded people who are also addicted to the lifestyle - Why not reach out and let the consumers decide who's the Top Pontoon Boat Dealer. 
For All Your Accessories and/or Vinyl Flooring Visit Pontoon-Depot's Shop Site.