The Best Outboard Motor Security Tips to Keep Pontoon Thieves at Bay
The Best Outboard Motor Security Tips to Keep Pontoon Thieves at Bay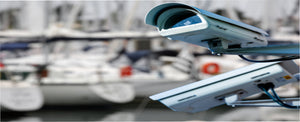 By: Better Boat
A new crime wave is sweeping docks and marinas across the country.
Boat thefts.
We're not just talking about the actual vessels being stolen—we're talking about valuable items being swiped from the vessels. And there's one valuable item in particular worth worrying about if you're a pontoon owner: Your outboard motor.
This is the type of the motor that graces every tooner's vessel (except for the odd tooner with a sterndrive motor).
Still, outboard motor security is an important precaution that's being somewhat overlooked by unsuspecting pontoon boat owners.
When the boating season draws to a close, pontoon owners will generally swap water for dry land. As boat owners change their environment, so do preying criminals.
Think about it—you're moving indoors and your prized possession (the pontoon) remains outdoors, whether this is at a local dock, in your driveway or in your yard. Since you won't be focusing your attention on the vessel when it's out of the water, this presents thieves with a prime opportunity to swoop in and take what isn't theirs!
The Best Outboard Motor Security Tips to Keep Pontoon Thieves at Bay
Things to Know About Outboard Motor Theft
Sure, the boat itself might seem like an easy steal, what with it being easily portable on wheels, but unmanned outboard motors are becoming just as desirable for thieves.
Regardless of their weight, outboard motors are highly valuable and the main appeal for thieves is that they're much less traceable than an actual pontoon boat.
Outboard motors are detachable and can be unmounted from outboard racks swiftly, allowing a thief to make a speedy escape before you're even aware of their presence.
Before I divulge some valuable seasonal outboard motor security tips with you, let me answer some common questions that every pontoon boat owner ought to know the answer to:
What are the main targets for thieves? — You have to remember that thieves are smart in their ways. Many will be on the prowl for days, weeks or even months before they make a move. A few things will entice them, such as unlocked gates, unguarded premises and, of course, an unmanned boat. Aim to keep your boat's location as obscure as possible in an attempt to keep thieves at bay.
What's the most likely time for a thief to strike? — Late at night or early in the morning are the times when a thief might attack your outboard motor security. For this reason, your grounds should be well-lit and preferably monitored by some kind of surveillance system, such as a closed-circuit television system (CCTV). When a CCTV system is connected to an alarm system, the relevant authorities will be alerted, and action can be taken. One excellent option for your pontoon is the AquaAlarm wireless boat alarm system (check price on Amazon).
Why do thieves steal outboard motors? — Not only is a pontoon outboard motor a very valuable piece of equipment but it's also very hard to trace. What's more, it can be detached in a few minutes, making the outboard motor a tempting option for a quick getaway. If you own a motor that churns out a lot of horsepower, you can bet that your motor will be sought after in the world of boat thieves. However, the higher the horsepower the heavier the motor, which means that a thief would require a great deal of skill to pull off the task.
Where is this happening? According to statistics gathered by the BoatUS Marine Insurance Claims Files, Florida sees the highest number of boat thefts, with 47% of claims being made in the Sunshine State. This may just be due to the sheer number of boats around or the fact that many locals know the value of an outboard motor. Either way, if you're in Florida or another year-round boating locale, outboard motor security isn't something to skimp on.
Outboard Motor Security Solutions to Deter Thieves
The level of outboard motor security you maintain for your pontoon depends on what you're willing to do in order to protect your vessel.
A broad spectrum of security devices can be purchased, from the low-cost options to the more expensive, high-tech systems.
Although you can expect to make an initial investment, you can't really put a price on boat security.
I've got a few solutions to combat motor theft:
Steering Lock — A steering lock, like the TH Marin Steer Stop Hydraulic Steering Lock, can be fixed onto your outboard motor's hydraulic steering cylinder rods with ease.
Aside from protecting your pontoon's outboard motor, it will also protect the boat steering system.
Outboard Lock with Transom Bolts — A tamper-resistant lock is a necessity for anyone who wants to increase their pontoon outboard motor security. 
When bolted through the transom, a bolt lock will act as a deterrent against thieves. Strong metal, such as stainless steel, will be resistant to corrosion and tampering.
For added security, combine the outboard lock with a clamp lock. Unauthorized removal can be prevented with the Marinetech 75-8000 Marine Outboard Motor Lock.
Security Identification System — One of the most advanced types of technology for outboard motors is an electronic security identification system. As the owner of an outboard motor, you can create a unique identity that the police can establish. 
Unlike typical tagging systems, the Datatag Pro Stealth Security ID System is equipped with scanners. It enables you to give the motor a special fingerprint which can't be interfered with by a criminal. 
How to Reduce the Risk of Outboard Motor Theft
In addition to taking a proactive approach to improving outboard motor security, you should also think about minimizing the overall risks of a theft occurring in the first place.
Preventative measures can make the world of difference and make your boat less of a target for pesky pontoon criminals.
Consider doing at least one (if not all) of the following things to reduce risks and ease your mind when the boat is ashore:
Start a "Marina Watch" organization — A strategic approach to reducing the risks of outboard motor theft is to organize a "Marina Watch" organization involving members of your community. By connecting with members of your local community, safety can be improved, and new measures put into place for the prevention of boat-related crimes.
Install security cameras — In most cases, intruders will avoid areas that are monitored by cameras. As previously mentioned, a boat CCTV system won't set you back a lot and, when installed properly, you can keep track of what's happening around your property by setting it up to deliver real-time images to an internet-enabled device.
Install proper lighting — When a thief feels as though they're at risk of being caught, they're less likely to commit the crime. Ensure the area around your boat is illuminated at all hours and the chances of a theft occurring in the off-season will reduce.
Mark the engine — Making visual markings on your outboard motor, such as a zip code or club marks, is a wise anti-theft tip. You'll likely get an insurance discount if you do this, should the worst happen. Furthermore, it will give your pontoon a unique identity that can be added to an international database.
Back Up Your Outboard Motor Security with Insurance
In the unfortunate event of your outboard motor being stolen, you can soften the blow by taking out boat insurance coverage.
I can't stress the importance of getting insurance for your pontoon boat enough, not only during the busy boating season but also during the off-season.
With the right kind of coverage in place, an insurance company can cover the costs (how much depends on the plan you select), should you find yourself in a spot of bother.
But which plans cover theft, you ask? Well, only the comprehensive boat insurance plans will protect you in the worst-case scenario, whereas more basic plans will only cover personal injury, underwater machinery damage.
Make sure you read the terms and conditions of any such plan thoroughly and be prepared to pay for add-ons if you want extra coverage for valuables, such as fishing equipment.
Don't let yourself become the one out of 100 boat owners who fall victim to boat theft.
Think about stowing your craft in a manned location or in an area that's in clear view of your property and whereabouts.
With an abundance of outboard motor security options being introduced to the market all of the time, there really is no reason why your motor should be stolen during the off-season—or any season, for that matter!
For All Your Accessories and/or Vinyl Flooring Visit Pontoon- Depot's Shop Site.