Sunshine, Good Tunes & Good Friends - Making the Best Day Ever on Your Pontoon Boat with a Quality Sound System.
Sunshine, Good Tunes & Good Friends - Making the Best Day Ever on Your Pontoon Boat with a Quality Sound System.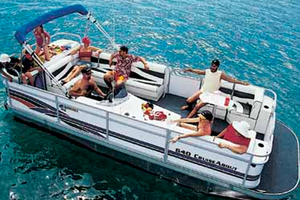 There are a number of speakers available for marine applications. Just about every speaker manufacturer makes a marine model which would be suitable for a pontoon boat or any other boat. At Pontoon-Depot.com we offer a great selection of marine audio speakers and receivers. I think the most important factor in choosing a marine speaker for any boat is that the audio sounds clear, has a decent amount of lows, and looks good.
Marine speakers for pontoon boats are really no different than speakers for any other boat. The only difference is that pontoon boats are generally much larger in terms of floor size than a typical boat, so having crystal clear audio is even more important. So an important thing to keep in mind since a pontoon boat is much larger, you may need to order some extra speaker cable and speakers.
Our best selling audio packages at Pontoon-Depot.com are:
Milennia MIL-MPK16 Marine Package - Includes MIL PRV16 digital media receiver and SPK652BB 6-1/2" speakers.
This stereo/speaker combo package from Milennia is a great way to improve the sound on your boat without breaking the bank. The marine digital media receiver will let you play your favorite tunes, and they'll sound great on the 6-1/2" marine speakers.
The Milennia MIL PRV16 digital media receiver packs a lot of handy features into a compact design that fits into a standard tachometer opening. Crank up some AM/FM radio, or plug a compatible device into the rear USB or AUX inputs. You'll have plenty of options for digital music playback with this receiver. The backlit LED display shows you what you're listening to with just a glance, while the water-resistant face and controls will stand up to sun, salt and moisture.
The SPK652BB 6-1/2" 2-way speakers are designed to sound great and made for marine duty. With corrosion-resistant baskets and UV-resistant grilles, the powerful woofers and 3/4" tweeters will keep pumping out the music despite the often-harsh extremes of life on the water.
Boss Marine Receiver/Speakers Package - Includes MR1308UAB digital media receiver and MR6W marine speakers (does not play CDs) 
With this combo deal from Boss Marine, you can upgrade your audio without emptying your wallet. The package includes a marine-rated digital media receiver, a set of rugged 6-1/2" marine speakers, a 41" dipole antenna, and even mounting hardware. If you're looking for a solid, basic system that's tough enough for life on the water, this package offers a lot of value for the dollar.
The Boss MR1308UAB marine digital media receiver is designed for marine use, with a UV-resistant exterior that resists fading and a conformal-coated PC board that resists corrosion. It blends into most boat interiors and offers an impressive list of features.
This digital media receiver (there's no CD player) gives you the freedom to enjoy all your favorite music without lugging a big box of discs down to the boat. With built-in Bluetooth® and integrated microphone, you get the safety and convenience of hands-free calling and audio streaming with compatible smartphones and devices. You can also listen to your favorite AM/FM stations, play music stored on a USB drive or SD card, or plug your MP3 player into the 3.5mm aux input. All the openings are protected from salt and spray when not in use, of course. And you can control all functions (except for Bluetooth) with the included remote.
The Boss MR1308UAB digital media receiver offers plenty of sound-shaping tools, with four preset modes and independent bass and treble control. If you want to connect an external amp, you can use the pair of 2-volt RCA outputs. The dipole AM/FM antenna is made from durable, flexible rubber, so you can install it out of sight.
The fold-down faceplate features a single-line alphanumeric-text display that's easy to read day or night. When you leave your boat at the dock, you can slip the detachable face into the hard plastic carrying case included with your purchase. An optional soft case is sold separately. One last piece of good news — this radio will retain your presets through the winter when the battery disconnected.
The Boss MR6W marine speakers pair up perfectly with this receiver. These durable 6-1/2" dual cone speakers provide plenty of low-end punch and excellent clarity. The rugged woofer features a water-resistant design that provides splash protection and durability, not to mention style.