Boating Equipment and Accessories: A Brief Guide For 2020
Boating Equipment and Accessories: A Brief Guide For 2020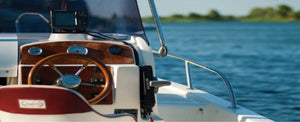 By: Boat Trader
Once you've chosen your perfect boat, the next thing on your list will be to outfit your new vessel with all of the right boat equipment, gadgets, and accessories for a truly good time on the water. Depending on the type of boat that you've chosen and your intended use, there are a number of different accessories and equipment that you may need for the type of boating you intend on doing. Of course, there are also some really cool gadgets that you'll just want to have on board for fun too! Either way, this guide should help you get started.
In this guide, we'll cover onboard equipment for trailerable boats that measure less than 35 feet. Some items are legally required for proper boating, but most boat accessories are just fun to have on board or they could make your boating more enjoyable. There are plenty of categories that include everything from essential safety items to premium upgrades, making it easy to get the perfect boat when you add the accessories and equipment that you want.
Basic Safety Gear
Of course every good boater should have boat safety in mind above all else. So if you don't already have them, your boat should include basic safety essentials like a fire extinguisher, life jackets, a first aid kit, and a horn. If you don't have a built-in horn, or just want to guarantee you're heard in an emergency, an air horn is a great choice. We won't spend a lot of time here because this is all pretty basic stuff. Plus, there's not a lot of information to consider in your purchases, so long as you choose quality safety items to stock your boat.
Remember that it is your responsibility to have proper life vests and safety gear on board in the event of an emergency. You can choose from standard life vests, upgraded water sports vests, and other models, making it easy to find something for just about everyone. There are also throwable life preservers, of which everyone should have at least one or two on board for safety. Stock up on safety equipment and accessories so that everyone is able to have a good time on the water without worrying about the basics.
Navigation Equipment
If you think getting around on roads is difficult, try your hand at navigating the water without a little experience or the assistance of a GPS. GPS units are almost a necessary investment for any boater these days. Not only does it guarantee that you won't get lost, but it will help identify potential hazards and water channels along your route. Many GPS units will even let you create a "breadcrumb" trail that shows your path out into the water so that you can turn around and follow it right back in.
Models are available from leading navigation brands like Garmin and others, and there are a number of features and models to choose from. Some boats come with built-in navigation systems or the option to have it added at the time of purchase. If you have this choice, it could be the better way to go. That way, it's done and it's hard-installed so you never have to worry about whether it's on board or if it needs charged when you're ready to hit the water.
Many premium sound systems have built-in navigation as part of the device, as is the case with modern car radios. If you are considering upgrading your sound system or radio, check that out while you're looking at navigation equipment because it may be easier for you to justify investing in a more expensive unit so that you can get the perks that come with having an integrated GPS.
The other option is to buy a unit that is solely for navigation. These systems are designed in portable styles and units that can be installed on the boat, so that everyone can get what they want. Some of the units are more feature-rich than others, but as long as the GPS function does its job, the rest of the bells and whistles are a matter of personal preference.
Fishing Gear
When you're outfitting your boat with fishing gear, there are a lot of different accessories that you can consider. From standard fishing buoys and kill bags to rod holders, built-in coolers, and even fish finders, there are plenty of accessories that you can add to your boat if you're looking to hit the water to do some angling.
Popular fishing accessories and equipment include:
Tackle boxes and tool organizers
Rod holders and racks
Outriggers
Cutting boards and other prep tools
Coolers and livewells
Unlike other accessories and equipment for boating, fishing gear is uniquely designed for a variety of types of fishing. A lot of accessories are universal and can be used for multiple applications.
But when purchasing fishing equipment for your boat, you have to make sure that you choose the right accessories for the type of fishing boat and the type of fishing that you want to do. For example, if you want a fish finder, you'll want to purchase one that seeks out the type of fish that you want to catch.
Communication Devices
There are a number of different communication devices available for boats today. Different types of devices work differently depending on where you are, so it is important for boaters to have multiple communication devices available. These devices should also be able to provide safe operation when wet and be designed specifically for boating use. You should always keep your cell phone on you, but remember that this will only work if it's kept dry and you're boating in range of cell towers. This isn't always the case.
Other communication devices may not be technology based. These include dyes, flares and SOS signals, flags, fog or air horns, and other items. Even your own arms waving in the distance are a distress signal tool if you need them in an emergency. Of course, there are much bigger communication devices that you should have on hand.
Two of the most useful items are:
VHF FM-DSC marine radio. This radio lets you talk to authorities and other boaters. It can be used anywhere and in any type of water, and has Digital Selective Calling to alert people to boaters in distress and help identify their location. These radios are a must for any boat for those who want a safe way to stay in touch and send a distress signal when they are out on the water.
Emergency Position Indicating Radio Beacon, which transmits the boats location to emergency responders and can summon help quickly regardless of a boater's location.
In addition to radio beacons, there are also personal locator beacons that boaters can buy to put on their person instead of their boat. That way, if something happens and a boater is left away from the boat, they can be found in the water in the event of an emergency. These aren't must-have items for your boat, but they certainly are worth looking into if you really want to make sure that you are safe on the water.
General Equipment
It's important to have all of the right tow lines, towers, buoys, anchors, and other mooring and docking equipment for your boat. After all, unlike many of the optional accessories discussed here, these items are required for regular and safe operation of your boat.
This list could also include:
Bumpers
Ropes and docklines
Chains
Paddles
As with the safety equipment, requirements vary by state so you will need to check to see what is actually required to be on your boat. Then, you can purchase all of the must-have items and upgrade the others as you see fit. Think about how you want to enjoy your boating. In most cases, you'll probably choose to add as many accessories and safety equipment upgrades as you can for the peace of mind alone.
Premium Upgrades
If you really want to outfit your boat with the best essentials, you can find plenty of premium aftermarket and point-of-sale upgrades like sound systems, solar panels, and more. Popular premium upgrades include satellite radios and smart devices, such as the Fusion Entertainment line of digital radios that include color touchscreens and digital signal processing.
Another popular boat accessory upgrade is composite decking that can be installed over fiberglass and offer a better finish and a better ride. This material is known as SeaDek, and can help reduce the vibrations and offer a softer surface for kneeling or barefoot walking. This cool feature can reduce fatigue by as much as 25% and keep your boat looking stylish for years to come.
If you're into night boating, you might want to invest in a night camera to help you identify markers, other boats, and items in the water when you're out at night. There are a number of night cameras and scouting devices available, and most boats can be outfitted with a model that will give them the visibility that they need.
Solar panel systems are designed to provide a power source for the boat without using as much gas or other power to fuel the various systems. A solar panel integration on a boat is a unique installation, so make sure that you have this done by professionals if you consider adding one to your system.
Quick Tips for Buying Accessories and Equipment
Never buy anything for your boat if it isn't model specific or say that it offers universal installation. If it's an accessory that doesn't need to be specifically for your boat, such as a GPS unit or a livewell for your fish, you can pick and choose what you like based on other features. If, however, you're upgrading your sound system or built-in communication tools, or you want to install rod rocks for fishing even, you may need to consider at least the model of your boat, if not other technical specifications.
Remember that all of these items are designed to improve your boating experience. They are often optional items that you can add to your boat for personal enjoyment, safety, or another use. Take the time to browse the market and read up on reviews to see how other boaters like various products before you buy. Often, with accessories and gear like this, finding out what other people like is the best way to go.
Stick with reputable, certified boat dealers and websites. Sure, you might be able to find some great deals on major retailers like Amazon.com, but when you want reputable equipment and accessories, you should buy from marine websites and companies for the best results. Plus, then you have someone that you can ask for recommendations and assistance in outfitting your boat with all of the accessories that you need.
In Summary
No matter what kind of boating you have in mind, there are plenty of accessories and equipment that you can add for the sake of necessity or pleasure. By taking the time to check this guide when outfitting your boat, you can make sure that you've covered all of your bases and gotten the equipment and accessories that you need. Everyone will argue about which the best brands and products are, but when you get into specific categories of equipment and accessories, those reviews are plentiful.
If you're new to boat ownership or just looking to outfit your new boat for the best time on the water, you should make sure that you have all of the extras ahead of time. you can upgrade and buy premium accessories and non-essentials as you go, but if you have everything when you first hit the water, you'll be on your way to better boating from day one.
Remember to shop for boat-specific accessories when necessary and to take advantage of the reviews from other boaters to find the best products on the market today. As long as you keep these things in mind, it's easy to make the most of boating equipment and accessories for your new vessel.
For All Your Accessories and/or Vinyl Flooring Visit Pontoon-Depot's Shop Site