What Are The Differences Between A Catamaran And Pontoon Boat?
What Are The Differences Between A Catamaran And Pontoon Boat?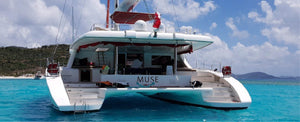 Pic By: Dream Yacht Charter

Some of these differences are observable while others are not. Catamaran and Pontoon are both made up of two hulls or pontoons (usually of the same size else you would be having an outrigger or a proa) connected with a wing-like structure.

Some folks consider both as basically the same and suggest catamaran is just a type of pontoon and some think their differences are basically on their usage and a pontoon would technically be called a catamaran.
The name "Catamaran" was derived from the word "Kattumaram" which in Talim means "tied wood". The ancient vessel from which we got so many derivatives was just two logs of wood connected by smaller logs of wood and accommodations were made on the smaller logs above the hulls.
The modern catamaran and pontoons come with different designs. The sophistication of modern engineering is so evident in the production of these boats. While the pontoon might be as simple as a deck placed on two pontoons to a bit more complex designs, the catamaran has pontoons which are usually a part of the structure of the boat with different spaces.
 These spaces can be used as residence or for storage. Most of the catamarans also have a mast with a canvas in between the pontoons. Catamarans come with different complex designs that will best suit the desired use.
Simple pontoons are usually used for pleasure cruise or fishing in smaller water bodies like rivers and lake. The water surface shouldn't have high water current and is not dramatically affected by a change in weather conditions. The use of pontoons in open seas and ocean is highly prohibited because it is not structurally designed for such an environment. 
The pontoon shape does not cut through waves. Its wave handling capacity is poor. They cannot maneuver effectively in rough water bodies. Meanwhile, catamarans can sail the seas or oceans because they are designed to handle such an environment and they can cut through waves.
The pontoons are usually not large. Most pontoons are between 15-40 feet and 8-12 feet wide with the outboard motor placed behind. While the Catamarans are usually very large and their motors are usually in the pontoon tube.
There is also an observable difference in the speed of both the pontoon boat and the catamaran. The feature is also related to their intended use with the different types of water bodies. A pontoon boat can attain a speed of about 26 miles per hour while a catamaran was designed to move faster, up to about 50 miles per hour.
A buyer who is interested in getting a pontoon can purchase one between $12,000 to about $75,000 while a catamaran can go for a price ranging from $60,000 to above $2 million.
For All Your Accessories and/or Vinyl Flooring Visit Pontoon-Depot's Shop Site.