Deck Boats vs. Pontoons: How They Compare for 2020
Deck Boats vs. Pontoons: How They Compare for 2020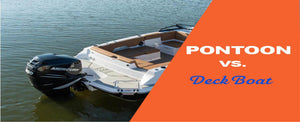 Deck Boat
A deck boat is similar to a luxury speedboat. They are sleek, aerodynamic, and have a V-shaped hull making it look as though it is rising out of the water. Deck boats can hold more people than a traditional speedboat, making them great for a day out on the water with a group of 8-12. 
The unique shape of a deck boat's hull allows it to gracefully cut through the water at high speeds. Their high speed and unique shape make them prone to bumps and rocking; however, many deck boats feature a wider hull which gives a more stable, smooth ride. 
Glastron boats are the cream of the crop when it comes to deck boats. Contact Nautical Ventures for expert Glastron advice.
Pontoon
A pontoon boat has a completely flat deck and resembles a floating living room. Pontoons can fit up to 20 people and are intended to be driven on calm waters. These boats are the go-to pick for entertaining passengers or more relaxed activities such as fishing. A pontoon is a perfect boat for a lazy day out on the water, and because they are geared towards calm waters, they are the ideal boat if you frequent lakes most often.
Choosing a Boat 
Both pontoons and deck boats are great options for beginning and advanced boaters alike. Choosing a style of boat will depend largely on your budget, the number of people you want to fit, and what the primary uses for your boat will be.
If you want to host large groups on the water, prefer low speeds, and need a lower price point, a pontoon is your best option. Their flat design keeps them steady whether the water is moving or still, appealing to those prone to sea-sickness. The last major pontoon selling point is the ease of which you can clean the boat. Pontoons have aluminum hulls that are simple to wipe down and make for easy maintenance. 
A deck boat is the way to go if you want to do more thrilling water sports like water skiing or tubing. If you have a higher budget and love a sleek, sexy ride, the deck boat is your perfect match. Because they have more powerful engines, deck boats generally cost more than pontoons. However, there are many options available to get a great deal. 
At Nautical Ventures, we recommend Glastron boats and would love to talk to you more about these gorgeous vessels. Not only are Glastron boats manufactured by skilled technicians, but every detail is taken into consideration. From the initial prototyping to final production, everything is thoroughly researched and tested. This high-standard is what makes the Glastron boat a perfect boat for a summer of adventure.
Learn More About Decks Boats & Pontoons 
Whether you envision lazy Sundays spent fishing on your new pontoon or want to speed your guests through the lake on a deck boat, Nautical Ventures has the knowledge, expertise, and selection to help you find the boat of your dreams. 
For All Your Accessories and/or Vinyl Flooring Visit Pontoon-Depot's Shop Site