Gone Fishin': Pontoon Fishing Accessories for Reel Fun
Gone Fishin': Pontoon Fishing Accessories for Reel Fun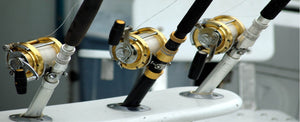 By: Better Boat
You're drifting slowly in your pontoon at dawn on crystal clear water, so calm it looks like glass. You have a fishing rod in one hand, a coffee in the other, and you're taking it all in as the sun begins to rise over the horizon. Sounds like heaven.
We're talking a relaxing and pleasant fishing experience on your pontoon boat.
Pontoon Fishing for Reel Fun
Trolling Motors
For those of you who are new to fishing, a trolling motor is a removable motor that allows you to troll the pontoon slower than your regular motor while having your hands free to fish. It's controlled by a remote control or foot peddle.
When I say removable, I mean you can take it off and put it back on with ease every time you use it. I love this feature because it allows you to have the extra space when you aren't fishing and are just cruising with the family. A trolling motor is also battery powered and can be recharged by plugging it into an electrical outlet.
Most fishing enthusiasts will tell you there are other benefits to trolling. Trolling motors allow you to get into areas where your bigger motor can't go. You can raise your bigger motor out of the water when using the trolling motor in shallower water.
Depending on the type of fish you're looking to catch, trolling your lure in the water can be a great way to simulate the natural movement of live bait, increasing your potential for reeling in a big one.
I personally have experience using a Minn Kota and I can say it scores big points for durability and longevity in my books. We've had ours for years and it remains a great addition to our pontoon fishing experience.
I always suggest that you do your research and decide what's the best option for your individual fishing needs and price point.
Built-in livewells are excellent features because they can be filled directly from the lake or ocean (and some livewells can also be installed with this feature).
The purpose of a livewell/baitwell is to keep the oxygen flowing in the water, so the fish or bait stay alive while you fish. This is particularly useful for catch-and-release fishing tournaments where your score depends on the total weight or size of fish count that are eventually thrown back into the water.
I love livewells because they promote responsible fishing in areas that have conservation laws and rules about how many fish you can keep. You can keep fish as you catch them and then release the ones you don't want, as you upgrade on your catch.
Fishing rod holders are great for pontooners who love to fish with more than one rod in the water. This, of course, would increase your chances for catching your dinner but I would definitely check the rules in the area where you're fishing as many lakes, rivers and bays have stipulations on how many rods you're allowed to have in the water at once, depending on what you're fishing for and what's in season.
There are many different kinds of rod holders and brands. Depending on the type of fishing you want to do, I recommend making sure your holder matches the strength of your rod and will stay firmly in place when 'the big one' takes the bait.
For All Your Accessories and/or Vinyl Flooring Visit Pontoon-Depot's Shop Site