Easter on a Pontoon Boat? Yeah, Easter on a Pontoon Boat
Easter on a Pontoon Boat? Yeah, Easter on a Pontoon Boat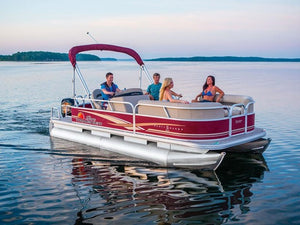 You might not think of your pontoon boat when someone mentions Easter — but maybe you should.
For families of faith — and plenty of others that are not — Easter is a deeply personal holiday based on reverence, gratitude and introspection. It might seem a bit out of place or even inappropriate to spend such a day splashing around and having fun with your family on a boat.
But if you think about it, it's really not.
Easter, in its purest form, is a celebration of family and friends. There is no single object, machine or device on this Earth that sums up the concept of celebration with family and friends more perfectly than a pontoon boat.
It might not be your family's tradition — and Easter is all about tradition — but every tradition starts somewhere.
Maybe this year you take your old tradition and bring it to the lake.
Maybe this year you cook something special that reminds you of the holiday the night before, or early in the morning, pack it up and haul it out to the boat to be consumed among family and friends later in the evening.
Are Easter egg hunts more your thing? Can you think of a better, more exciting place to hold a chocolate-based scavenger hunt than on a big pontoon boat — think of all the hiding places!
Easter ham, Easter eggs, Easter prayers — whatever the holiday means to you won't mean anything less just because the celebration takes place on a boat. In fact, you might just find that your new tradition fits so perfectly with the holiday that it starts to catch on.