Electric Pontoon Boats: Different Engines, Same Flooring Needs
Electric Pontoon Boats: Different Engines, Same Flooring Needs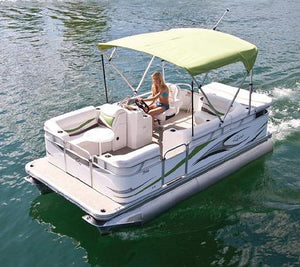 For some people, electric pontoon boats are maritime heaven.
Since you don't have to worry about paying for fuel, they're cost effective in the long run. They're great in shallow water, they're kind to the environment and they're perfect for bodies of water that prohibit combustion engines.
But don't get to thinking that since your pontoon's engine doesn't rumble and growl like a gas guzzler that you can get away with substandard flooring. No matter how your boat is powered, water, iced tea, fish goop, suntan lotion and all the rest IS going to wind up on your boat's deck.
If you have marine carpeting, that means a gross, smelly, matted mess that's impossible to clean. Dirty boat carpeting — which is all boat carpeting outside of the dealer showroom — makes your boat look old and busted.
On the other hand, dump that same sunscreen, fish goop, water and iced tea on MariDeck flooring — which you'd be crazy not to install on your electric boat — and it's a whole different story.
Now it's easy to clean and looking like new again with just a little basic maintenance. Even better, you won't slip or lose your footing even a little bit while it's still wet and slimy out on the water.
No matter your propulsion system, your boat's deck is going to get a mess thrown at it on the water. Add kids, pets or anyone who's prone to seasickness, and that mess gets a whole lot messier real quick. High-quality vinyl flooring can stand up to the challenge. Sad, old boat carpeting can not.  
With all the options MariDeck offers, you'll find the color and pattern you love and the level of thickness and toughness you need.
You're electric boat protects the environment and defends your wallet against rising gas prices. Pay back the favor. Protect and defend your boat's deck with superior flooring.