Fall Is Here! Boating Season Isn't Over, It's Just Getting Started!
Fall Is Here! Boating Season Isn't Over, It's Just Getting Started!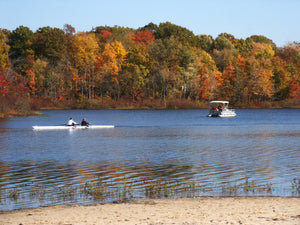 Boating is not a one-season activity.
Sure, summer gets all the glory, but some of the best fishing imaginable takes place in fall, when bass pile up in shallow water as the temperatures drop.
If you're in it for relaxation, autumn offers some of the finest sightseeing opportunities of the year.
The point is, there are a lot of ways to extend your boat season. Fall is also a primo time to save money on repairs and upgrades outside of the expensive peak season. Maybe you need new lighting or seating. Maybe it's time for a new fishfinder, marine speakers or other electronics upgrades. Maybe you're finally ready to get rid of the dreary boat carpeting and move to safe, slip-free and good-looking MariDeck flooring. Either way, we've got you covered all year round.
Yes, we're based in Arkansas, but you don't need to be from our neck of the woods to take advantage of our selection and affordable pricing.
Check out our shopping page. You see it. You like it. You want it. We deliver it.
We'll ship anything anywhere in the lower 48. Even better, we ship for free on all orders over $50. You have questions or concerns? Give us a call. We're easy to talk to, and with 100 years of combined experience, we've seen it all.
So, what are you waiting for? The summer's over and it will be for another seven months. This is the perfect time to repair, reassess and upgrade. Then, you'll be ready to get back out on the water and create even more memories while your less-adventurous pals in the boating community are hunkering down for winter six weeks too soon.