MariDeck Flooring: No Slip, No Mess, No Moisture
MariDeck Flooring: No Slip, No Mess, No Moisture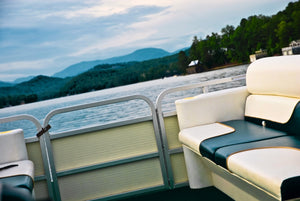 Boat carpet looks great — in a showroom.
On a boat, it looks dirty. That's because it is dirty. Boats operate in difficult conditions that batter and attack your investment from every angle. Add in kids, pets and food, and boat carpeting simply can't stand up to the demands of the conditions.
When you first experience MariDeck, you'll know right away that it's time for your old boat carpeting to go. Slip-resistant and textured, MariDeck can stand up to the rigors of boat life. It can be installed on aluminum, wood or fiberglass, which means it's compatible with not just pontoons, but ski boats, hunting boats, fishing boats and houseboats.
Advantages include:
MariDeck is water resistant. It keeps moisture out, preventing deck rot and other damage.

It comes in a wide range of thicknesses, weights and strengths.

It's embossed and slip resistant.

It's easy to clean.
Finally, looks aren't everything. If MariDeck looked great but didn't perform well, we wouldn't sell it — but MariDeck is as attractive as it is functional. It comes in 18 colors and patterns, including granite, sand, teak, ocean, stone gray, wine and camo.
Across North America, boat owners are tearing out their boat carpeting and installing MariDeck — and for good reason. It protects their investment, it looks great, and it makes their boats safer, more secure and easier to clean.