Near-Tragedy Inspiration | Pontoon-Depot
Near-Tragedy Inspiration | Pontoon-Depot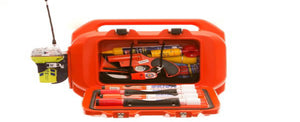 By: pdbmagazine.com
Scott Smiles' 42-foot boat sank in 50 seconds, leaving him, a friend, and their two PFD-clad young sons clinging to a cooler and EPIRB—the only items he had time to grab. The harrowing experience inspired Smiles to develop Life Cell, a completely new approach to safety equipment storage.

Life Cell from Life Cell Marine Safety is a self-contained buoyant device that holds user-supplied safety and survival equipment. Best of all, it provides flotation assistance for up to eight adults, depending on the model.

Life Cell is simple to use and easy to access. It can be thrown or, should the boat sink, will float off its included mounting bracket. The high visibility Life Cell doesn't rely on its watertight compartment for buoyancy; its flotation is built in. Life Cell models start at $299 with a two-year warranty and are available in orange or white.
For all your accessories and/or vinyl flooring visit Pontoon Depot's shop site.