Pontoon Tiny House: Considerations Before Building
Pontoon Tiny House: Considerations Before Building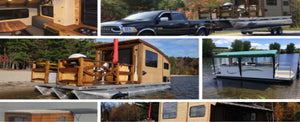 By: BetterBoats
Intrigued by owning or building a pontoon tiny house?
They could be your answer to low-cost houseboat living. Sounds awesome, doesn't it? Especially when you can't afford bigger liveaboard boats, don't like the idea of marina living or want something more customized than cheaper boat living options.
With the tiny house trend on the upswing, growing interest is spreading across the world. (Check out this pontoon tiny home video.) While they seem practical and break the cuteness scale, there's a lot to consider before investing in one. So let's weigh your options.
What's a Pontoon Tiny House?
Pontoon tiny houses are custom homes designed to fit onto a pontoon base (tubes). You can enjoy all the comforts of home on the water, without the huge cost (and labor) of owning an enormous houseboat.
You can buy one pre-built or have one custom designed, which all depends on your budget, desired size and how you plan to use it.
Investing in a Pontoon Tiny House
You love this idea, and I'm right there with you! But, like me, you still have questions: Is it safe? Are there special rules and regulations involved?
And then there's the biggest question of all: How much will it cost?
This guide can help you with all that. You can read on to find information on state law and permit guidelines, types of tiny houses to consider, costs, transportation, and more.
If you're as intrigued as I am (mine's already built in my head!), read this guide to get answers and maybe even get started.
Types of Pontoon Tiny Houses
How do you plan to use your pontoon tiny house? Will it be solely for recreational and entertaining purposes, or do you plan to use it for extended fishing trips? Or both? Either way, there are a few considerations to think about.
Pontoon Tiny Houses for Leisure
If you plan to use it for leisure and fun, consider these optional accessories and features:
An ample deck for lounge chairs, tables, umbrellas, and accessories (think coolers and grills)
Extra storage (for those fun accessories above!)
A portable/hidden clothesline for drying clothes and towels
Ample windows for lots of light
Pontoon Tiny Houses for Fishing
If you plan to use your pontoon tiny house for fishing, there are various pontoon fishing accessories. Some of which may take pre-planning and/or installation during the building process. Consider these accessories and features for a tiny house built for fishing:
Large deck for fishing chairs, accessories and equipment
Specially-installed railing for fishing rod holders
For a better idea, look at these series of custom pontoon tiny homes by, Le Koroc, which come in two designs: Fishing Series and Holiday Series.
Additional Pontoon Tiny House Features and Ideas
Interested in a kit? Check out these clever pontoon tiny house kits and ideas.
Solar power is another option to consider: Check out this solar-powered pontoon tiny houseboat. It's awesome!
All these options are features you might wanna think about, depending on your needs and plans. But you absolutely need to plan ahead to avoid later regrets.
Building and Customizing Pontoon Tiny Houses
Once you decide how you intend to use your pontoon tiny house and have chosen some of the features mentioned above, you'll next need to consider these basic underlying features.
Will you float in freshwater or saltwater? Will the house be used year-round or only in summers? These are important considerations before building or buying.
Saltwater vs. Freshwater Materials
Water types are an important consideration.
Plan to sail your pontoon tiny house in oceans? Make sure it's saltwater worthy. This includes all hardware, electrical connections, plumbing, and even motors, which can all be affected by saltwater brine. Since saltwater causes erosion, you need to ensure your pontoon tiny house is saltwater worthy throughout. To do so, here are a few must-haves:
Use maritime paint and maybe corrugated steel roofing (check price on Amazon) to withstand the elements.
You can even install solar panels for the roof (if there's room in your budget). Yes, these cost more up front, but save you money in the long-run. Not to mention, it's these small investments that help protect your bigger investment.
Discuss this with your builder or dealer. Before making the final payment, or signing any final documents, consider having your new tiny house inspected to be certain it's saltwater worthy. This is crucial if you're sailing year-round. Your boathouse baby will be exposed to the elements for longer periods, so plan ahead for this to avoid later problems.
How to Choose the Right Pontoon Base
Your pontoon base and tubes will be determined by your pontoon tiny house's weight and length.
It will also be determined by your budget. Can you afford new tubes or used tubes?
Consider a used pontoon tubes age and condition. Older tubes need to be thoroughly inspected for holes, dents and drainage problems. Generally, also, how it currently floats.
If it fails the test in any of these areas, it's a major safety issue. This is when you should consider buying new bases for better safety and security. (Not to mention the investment in the house you might've already built!)
How Many Tubes?
Two tube or three tube pontoon?
Ask your builder or dealer to determine this. An assessment of your needs, along with the house size and weight, can help the builder/dealer make this call.
And here's a pre-fab float system to consider: Look at this Pontoonz Modular Float System, created in New Zealand. This is an innovative option you may wanna think about. (For cost, you'll need to contact the dealer.)
Attaching Your Tiny House to Pontoon Tubes
One overlooked cost is the cost of setting your new pontoon tiny house onto its new base.
Locate someone local who can do it and is willing to do it. But make sure to:
1) Get a quote
2) Ask for proof of insurance
Avoid working with someone who isn't familiar with this procedure. And especially avoid someone without proper insurance to cover your boat, just in case.
Find a reputable company or individual. It's worth the hassle to be worry-free and you'll sleep better, too!
Legal Questions and Guidelines
State Laws and Permits
Just like regular boating, houseboat laws and permits vary from state-to-state. Even in each country.
Certain bodies of water, such as lakes and reservoirs, frown upon houseboat living, regardless of it being a pontoon tiny house. Although smaller than some yacht-like houseboats, they're still considered houses in the eyes of the law. So restrictions vary.
Before building or buying, check with governing state authorities to verify precisely what's allowed and what permits are needed. If you can't have your tiny pontoon houseboat in the closest, most-convenient waters, it may not be worth pursuing.
To check your local laws, here are two places to start:
Check these sites for your state information, then check with the governing offices to ask any additional questions.
Insurance Costs
Houseboat insurance, big and small, varies from state to state. (Not to mention from agency to agency.) But, you're required to buy it.
Your costs will be determined by many factors, like size and investment.
If you're unsure who to contact for insurance quotes, check with the United Marine Underwriters for advice.
Additional Building Costs
If you're handy with DIY projects, build a pontoon tiny house yourself. It may help protect your wallet.
But whether you plan to hire a builder, buy a custom-designed tiny home or use a kit, there are additional costs to consider.
When planning a budget, you need to determine costs for many areas, not just basics.
As with any newly-built house, you'll have these initial building costs: Foundation, walls, flooring, roof, heating and air. (These costs can vary greatly depending on what you choose.)
Then you'll need to purchase appliances, such as sinks, a shower and a toilet.
And then there's decorating: Paint, cabinets, hardware and mirrors.
You'll need special furniture: Hidden bed/storage beds, chairs with storage and folding tables.
Then there are annual costs: Yearly maintenance, as well as fees, permits and storage costs.
Oh, and then there's this…
Transporting Your Tiny House
You new tiny boathouse will need to be transported, whether it's on the base yet or not. You'll have to transport it to the base to be attached, and you'll have to transport it to its final destination. (Geez… so much to think about!)
So, like I said before, locate a reputable company who can transport it for you, including a transportation quote and proof of insurance.
Then, you'll need to transport it to either a storage facility, dock or it's base to be attached.
And it's best to keep that transport company in your contact list to transport your pontoon tiny house to a service provider for maintenance or repairs. (Hopefully not, but it's best to plan.)
Transportation costs and fees can all add up, so get quotes first to include in your budget.
Inspecting Your Pontoon Tiny House
Just chock it up. You may not want to pay those few final inspection costs, but it could protect your investment. And even protect lives.
First Inspection
When having a tiny house built, you'll need it inspected for proper building codes, laws and permits—just like a regular house. Don't forget about saltwater compliance inspections, as I mentioned earlier. If you're not doing the building yourself (or hiring it out), ask your dealer about the final inspections. Are they included? Who's responsible for handling it?
Check the fine print in your contract. Once your tiny house leaves the dealer, you may have no recourse if proper codes haven't been met.
Second Inspection
Before transporting your tiny house, have it inspected to make sure it's properly attached to the bases/tubes. If it isn't, it can become damaged during transit. And you sure don't want any problems on the water.
Inspecting Each Phase
A smart option is to pay licensed inspectors for each building phase up until the point of base attachment. Safety is never worth saving just a few pennies.
Storing Your Pontoon Tiny House
You might need tiny house storage, either temporarily or in the winter. So start your search to locate a storage facility who can (and will) safely store it.
Most likely, they'll need the weight and size before providing a quote. Once you get a quote, ask for proof of insurance. (Yep. I'm a broken record, but you can't forget!)
If you can't locate a viable storage facility close by, you'll need to consider transportation costs to a neighboring city for storage.
This is a big deal, because safe, secure storage can protect your investment and give you peace of mind.
Pontoon Tiny House Ownership
This is an awful lot to consider before building, or buying, a pontoon tiny house. But when you consider that it's truly a house (even though it floats), there are many costs and considerations to think about.
Who knows? Thorough planning, research and a simple financial plan can guide you on your way to tiny houseboat living on your pontoon.
Won't that all be worth it?
For all your accessories and/or vinyl flooring visit Pontoon Depot's shop site.