Shopping For The Boat Lover In Your Life Just Got Easier
Shopping For The Boat Lover In Your Life Just Got Easier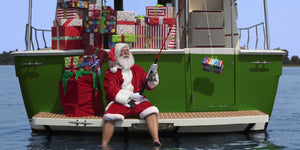 If your holiday shopping schedule includes getting the perfect gift for a boat lover, consider yourself lucky — you've got it easy.
Boat lovers are easy to shop for. Why? Because no matter how amazing a boat is, you can always make it better.
Take Marideck flooring, for example. There's a very good chance that the boat lover in your life is traipsing around on gross, grimy boat carpeting. You can fix all that this holiday season by giving the gift of vinyl flooring.
With Marideck flooring, you've got options. Choose the thickness, texture, pattern and color that's right for your boat lover. No matter what you choose, that primitive old boat carpeting becomes a beautiful, safe, non-slip, easy-to-clean surface that can stand the test of time — and feet.
You want to take it a step further? Let's talk about boat tech. Fish finders are always a good gift — unless, of course, your boat lover isn't an angler. You don't have to be a fisherman to love music. You could hook your boat lover up with a stereo package, audio receiver or new speakers.
If you're looking for a more practical gift, how about on-board charges, which always charge at precisely the right temperature. There are a million and one accessories, seats, tables, drinks holders and fence savers to choose from.
See, told you it was easy.
It's up to you, maritime Santa. You know your boat lover better than us. But either way, consider yourself lucky — you won't have to visit a mall this winter.