Marideck Flooring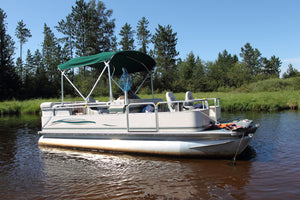 Seating And Flooring Packages — Get Bundle, Save A Bundle
Most bundles don't live up to the hype. In the winter, they tell you bundle up, which sounds pretty comprehensive, but it's actually just putting on a jacket. And then there are babies. Pregnant women say that they're expecting a little bundle of joy. But then comes that first yucky diaper.
In this day and age, it's hard to find a bundle that doesn't disappoint. But don't worry, we deliver.
No, not babies.
We deliver bundled up discount combination packages of Wise pontoon boat seats and MariDeck pontoon boat flooring. When purchased together, our discount bundles put up to 20 percent back into your pocket. That's millions of dollars in savings — as long as you buy, like 12,000 boat seats.
But even if you're just buying one bundle — and even if that bundle is the least expensive one we offer — you'll save hundreds of bucks on high-quality products that make your boat both luxurious and prepared for even the harshest elements.
Choose your color scheme. Choose your flooring thickness and texture. Choose your seating layout and style.
Whether your boat holds just a handful of passengers or an entire bundle of people, we've got a discount package that can transform your entire deck in one shot. With high-quality boating seats and flooring, you'll protect, beautify and add value to your investment.
We've got something for every boat, and no matter how big or small, you're going to save a — yeah, you guessed it.
A bundle.