pontoon boat boatel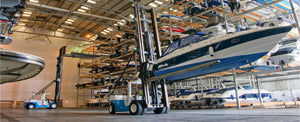 Boatels - A New Level of Boat Storage
When you're lucky enough to own a boat, you'll store it wherever you can, be it dock or marina, garage or driveway, or even backyard. But there's a fairly new player in the boat storage game you may not have heard of that many boat owners love - boatels.
These full service indoor storage units are located near the water and can typically store dozens to hundreds of boats of all sizes in a secure facility.
Protect your Investment
Indoor storage protects your boat from unnecessary exposure to the elements. This cuts down on wear and tear from the wind and the sun, and from water damage to the hull if your boat is stored in the water. It also helps keep your boat clean, so that when you're ready to take it out on the water, you won't have to waste precious time removing leaves, bugs and other debris first.
Enjoy the Amenities
Boatels typically offer convenience and amenities to boat owners that typical boat docks and other boat storage solutions don't. Call ahead - often with little notice - and the boatel will pull your boat from storage and load it into the water for you. If the boatel has concierge service, they may fill the gas tank and have a cooler full of ice in your boat waiting for you upon arrival.
After you've enjoyed a day of fishing or fun, boatel staff will remove your boat from the water, dry the hull, attach the cover and return it to the dry, secure storage facility. It's as easy as that!
Many boatels also offer full service marinas, so you can purchase everything you need including bait, snacks, sunscreen, drinks, and more. Boatels really are the new wave of boat storage for boat owners who are looking not just for convenience, but to protect their investments.