pontoon boat seating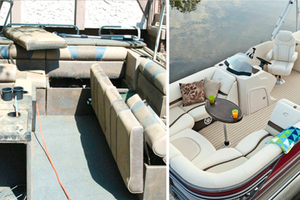 3 Quick Tips for Choosing to Refurbish a Pontoon Boat
When considering whether or not to buy a new pontoon boat, a used pontoon boat, or maybe you want to refurbish your own pontoon boat, here are some things to consider while you are weighing your options. It's important to keep in mind that for $1500 to $2500 the deck, furniture and carpeting can all be replaced with high-quality pontoon seating, marine plywood, and new marine vinyl flooring. So maybe something that looks fairly rough is actually a diamond in the rough.
At Pontoon-Depot.com we sell high quality pontoon boat furniture and pontoon boat accessories and we even offer discount kits which group furniture kits with MariDeck - an exterior grade vinyl pontoon flooring, so designing your new boat layout has never been easier.
With all that said, here are our top 3 tips when deciding whether to either refurbish an older pontoon boat or throw in the towel and start over.
Check the pontoon tubes. While fiberglass pontoons may look cool, they are problematic and expensive to repair. Aluminum pontoon tubes we feel are the best. Check each tube for any possible punctures not only on the exterior but also under the pontoons deck as well. Check the overall strength, the

 

tubes can get a lot of bumps and abuse with docking and trailering. Check accordingly.
Check the pontoon boat's railing and trim pieces. Custom aluminum pieces, railing and side trim are nearly impossible to match so plan on replacing them if they look bad or look for another pontoon boat if any of those things cannot be repaired easily.
Check the motor. Have the motor checked with a qualified professional for a proper assessment of its condition. Something to keep in mind older motors can be costly to maintain and locating parts may prove to be difficult.
For more information on buying used Pontoon boats visit Pontoon and Deck Boat Magazine - http://www.pdbmagazine.com/