pontoon boat deck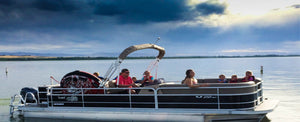 Average Pontoon Boat Speeds (With 15 Examples)
By: BetterBoat.com
When buying a pontoon boat, one of the major considerations is your top speed. Since pontoon boats are generally not built for speed, skiing and tubing behind one can be difficult unless you take care to select an engine, weight, and pontoon style that will be conducive to speeds required for skiing and tubing.
How Fast Do Pontoon Boats Go?
I scoured the internet for guys who have reported their speeds on forums around the web.  All speeds recorded with GPS, and except where listed, with a light to medium load.
G3 Suncatcher 22′ V22RF with a 115hp engine and medium load can go about 25 mph (39 kilometers)

22mph (38 kilometers) with a 90hp engine and medium load
With 11 people in the boat (max capacity) and a 115hp engine, it gets about 22 mph (35 kilometers)
Under perfect, ideal conditions and only one person in the boat, it can hit 31 mph (48 kmph)

21′ with lifting strakes and a 90hp engine and perfect conditions gets 36 mph (58 kilometers)
18′ Bass Buggy with 60hp engine can go up to 18mph (29 kilometers)
Suntracker 22′ with a 70hp engine can get 21 mph with a light load (34 kilometers)
Gigantic 30′ Pontoon with a 115hp will only get around 15mph (24 kilometers)
24′ Pontoon boat with a 115hp and a medium load got around 25mph (38 kilometers)
18′ Party Barge with a 75hp engine can get around  24mph (38 kilometers)
20′ Bass Buggy with a 60hp motor only gets around 13-17 mph (18 to 27 kilometers)
20′ Starcraft with a 75hp engine and with no load can get 23 mph (36 kilometers)
26′ Crest III with a 90hp engine and medium load can get around 28mph (45 kilometers)
24′ 2006 Sweetwater with a 90hp engine can go around 18mph, or 20.5mph with a 115hp engine
26′ Tritoon with a 175hp engine and a medium/heavy load can get up to 35mph (56 kilometers)
21′ Tritoon with a 90hp engine and only two people on board can get up to 27mph (43 kilometers)
How Fast Do You Really Need to Go?
Your initial response is probably "the faster, the better" but in reality you likely don't need to go as fast as you think.  While speeds certainly vary according to the tastes and abilities of your riders, consider the following as good average speeds for various water sport activities.
Waterskiing with two skis

 

– 15 to 26mph is pretty normal (28 to 42 kilometers)
Tubing with very young kids

 

– My kids really don't want to go faster than 5 to 10 mph (16kph).  They are 4 and 6 years old.  Most of the time, they feel like idling is a wild ride, but will sometimes get brave enough to hit 11mph.
Tubing with kids 8 – 10 years old

 

– Depends dramatically on the kid, but most wouldn't want to go faster than 15 or 20 mph (24 to 32 kilometers).
Tubing with older teens and adults

 

– Above 25 mph (40 kilometers) is dangerous unless you're just going in a straight line.  At 20 (34 kilometers), you can get really nice air and have the ride of your life but even this speed can be dangerous with more than one rider.  21 mph is a pretty adventurous ride and will easily knock off riders if you make tight turns.
Wakeboarding

 

– 13mph to 18mph (30 kilometers) is a pretty average ride. Wakeboarding requires less speed than many other water sports, and going too fast increases the danger dramatically.  The large, solid board strapped to both legs makes this water sport more dangerous at high speeds than some others.
Slalom skiing

 

– 14mph (22.5 kilometers) is a little slow and

 

36mph is HAULING (and extremely dangerous)!  A good average speed is somewhere around 22mph (35 kilometers).
Kneeboarding

 

– Somewhere around 13 to 20 mph (22 to 32 kilometers)
Barefoot

 

–

 

This blog

 

gives a formula that is helpful for those in the U.S.  Take your weight in pounds and divide by 10.  Then add 20.  So if you're 200 pounds, you go to 20mph, then add 20, which means 40mph.
If you are new to boating, that is probably a little eye-opening.  Before, you thought you needed as much speed as possible, but as you can see from this breakdown, the optimal speed for most watersports is only 22 mph (36 kilometers).  Just about ANY pontoon boat with a 90hp motor can do that as long as it isn't loaded down with people.  With a 115, you should be hitting the optimal speed even if your boat is pretty well loaded down with people. For most pontoon boat captains, the real goal is to hit the golden 22 mph (36 kph) mark.  At that point, your fishing/cruising rig becomes a nice watersports rig as well.
How Weight (Load) Affects Speed
Prepare yourself for a horrible generalization.  This depends dramatically on the specific boat and the setup, but just as a guestimation aid, for every thousand pounds you add to your boat, you'll lose about 15% of your speed.  So a 22′ boat with no load may get up to 29mph, but will likely slow down to 24.5mph with 1,000 pounds of people in the boat (5 or 6 adults).
How the bimini Affects Speed
One pontoon boat captain reported that folding down the bimini took  his speed from 32mph all the way up to 36mph (51kilometers to 58 kilometers).  In my experience, it's usually much less of a difference than that unless it is an incredibly windy day.  I usually only see a 1 mph difference with top up vs down.
How the Prop Affects Speed
When you first get your boat, it will likely come with a "safe" prop that is meant to make the motor operate under nice and easy conditions.  Almost everyone will switch out that prop and go with something a little smaller (usually) to get the speed up and push up the RPMs to around 5000 or 6000 depending on your recommended range for your particular motor.
How Dirty Pontoons Affect Speed
It is not surprising to see a pontoon boat slow down 2 to 6mph if you have algae, barnacles, or other crud on your pontoons.  For those pontoon boat captains who don't trailer but leave their boat in the water most of the season, this is an important consideration.
For all your accessories and/or vinyl flooring visit Pontoon Depot's shop site.