Pontoon Electronics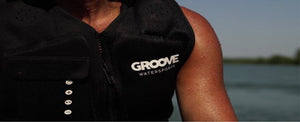 A Life Vest With Speakers Kickstarter Campaign Underway
At PDB magazine we sometimes get a sneak peek at boats, products or even breaking news before others. It's just one of the many perks as a member of the boating media. Often we have to wait to share exciting new products with our readers, but this time we're able to let you in on something special. If you love listing to music while wakeboarding, tubing, skiing, etc. then you're going to want a Groove Vest. This is truly a gamechanger for the wakesports industry.

"I wanted to listen to music out on the water and found out that I was not alone," said Drew Bartek, co-founder and chief financial officer of Groove Watersports. "Our vests are made to bring the best listening experience out on the water without compromising the comfort and range of motion of your vest."

The Groove Vest combines the enjoyment of listening to music with the safety of an impact vest and was created by riders for riders. The Groove Vest is designed to solve the issue of not being able to listen to music while out on the water. The vest is ideal for individuals looking for a comfortable, high quality, lightweight impact vest that has the added benefit of playing music.

"I've always been frustrated when riding behind the boat and never could hear the music clearly.  Then I tried waterproof headphones which just caused more problems," said Gus Gehlen, co-founder and chief executive officer of Groove Watersports. "I knew there had to be a better way so we have designed our vests to solve this problem through the integration of powerful speakers in the shoulder area of our vest for an easy all in one solution."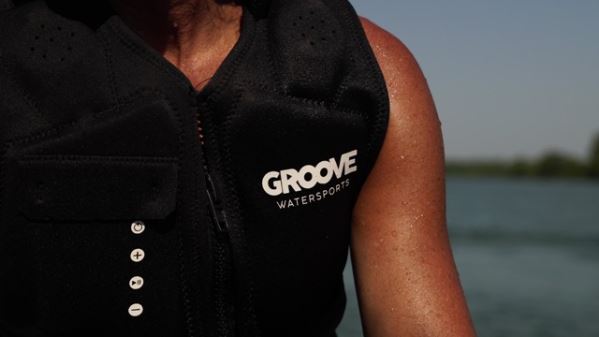 The Groove vest has 8GB of internal memory so you can ditch your phone, grab your vest, and get in the Groove as you play your tunes for up to 6 hours of continuous playback. You then simply charge your Groove vest with any micro USB charger (provided) and that's it. IP68 is the maximum Ingress Protection rating against solid particles or liquid so your vest can handle just about anything you throw at it. Just remember to spray it down after a saltwater session. 

As your own DJ you can control your music with easy access buttons on the front chest of your vest. There are four buttons to help you get in the Groove: Play/Pause, Volume Up/Down, Skip/Back, Power On. Engineered for the folks who like to "SEND IT!" the vest is designed to withstand high impact crashes.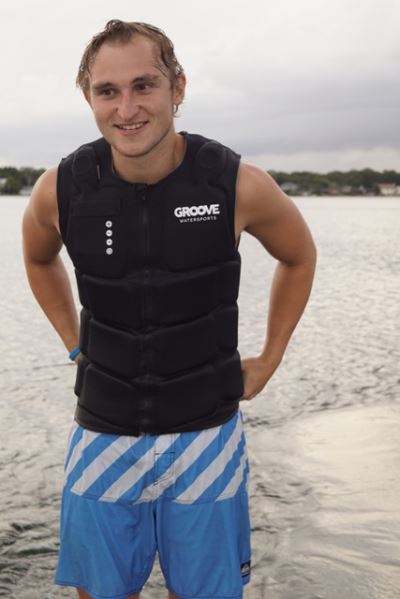 Electronics:
Speaker Type: Portable Waterproof Speaker
Connection Type: 8GB Internal Memory (1,000 songs)
Impedance: 4±10%ohm
Speaker Output: 3 watts
Driver Diameter: 40mm
SNR/Sound Pressure Level: 87±3dB
Weight: approx. 700g
Charging: Micro USB
Frequency

 

Range: 200Hz-20KHz
Battery

 

Capacity: 3,000mAh
Charging Voltage: DC 5V
Charge Time: approximately 2 Hours
Playback Time: approximately 6 hours
Housing Material: Polycarbonate
Vest:
Material:

 

Jersey

 

Knit Nylon Bonded to Scuba Stretch Neoprene
Foam: Closed Cell MLC Foam
Zipper: YYK #10 Marine Grade Zipper
Pocket Flap: Magnetic Neoprene Flaps 
Groove Vests are available in sizes Small to XL and those interested have the opportunity of pre-ordering on Kickstarter that begins today. The Groove Vest will retail for $299, but during this Kickstarter campaign in August, the vests can be pre-ordered starting at an early bird special of $150. For more information visit GrooveWatersports.com.
For All Your Accessories and/or Vinyl Flooring Visit Pontoon-Depot's Shop Site.