The Pontoon Boat Bar: How to Make Your Boat Party Dreams Come True!
The Pontoon Boat Bar: How to Make Your Boat Party Dreams Come True!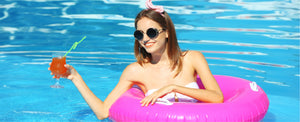 By: BetterBoat
Who doesn't love being the life of the party?
Well, when you're hosting a party on your pontoon, the 'toon itself might steal the stage.
Especially if it's a got a built-in wet bar.
Sure, you can install one later, but if you're considering a new pontoon purchase, you might as well look for a 'toon with this popular feature included.
It seems like an added luxury that you don't really need, but entertaining friends and family are what days on the water are all about. And what better space to gather around than a built-in wet bar on your pontoon deck?
Whether you'd prefer to perch on a stool or lean back on a bench, pontoon boat bars can create a social atmosphere for cocktail-mixing adults, as well as contained areas for children to eat.
The Pontoon Boat Bar: How to Make Your Boat Party Dreams Come True
The Best Types of Pontoon Bars
There are several varieties of pontoon bar types available.
I mean, if you've ever attended a boat show, you'll notice the sheer variety in pontoon boat bar styles.
Some have a simple galley where you can store a few liters, whereas others might be full-blown, high-top counters with sinks and stools.
Add-on Bars
Okay, let's say you already own your own pontoon and are looking to upgrade it a bit with a new bar.
Luckily, there are always attachable Docktail bars and accessories if you just need something smaller-scale or temporary.
For example, they've got a handy utility table (check price on Amazon) if you need to add counter space.
And, from Boat Outfitters, here's another add-on bar option (check price on Amazon) that can be installed right on your boat's deck.
Then, you can look for the additional appliances that complete the whole pontoon boat bar, like a mini-fridge and portable ice maker.
If you're looking to buy a new (or just new-to-you) boat, then you can seek out a model with all of the good integrated.
We'll help you with that now. Before giving you a list of boat models that carry bars, here's a list of common styles you might come across while you're checking out the market.
Bar Tops
You can find a variety of boats with basic, bar-height seating arrangements without putting out much for optional upgrades.
A lot of boats will have this as part of the entire package, just without the sink.
I find bar tops are useful for everyone, even if you're more of a quiet boater and not an entertainer. They give you a nice place to sit and eat lunch. Don't need all the appliances of a home kitchen and only want to pack a cooler? Not problem.
Built-in Wet Bars
A wet bar is a bar with a sink (at least). You may also come across wet bars with fridges and occasionally grills. Of course, a grill is easy enough to add yourself.
On some pontoons, you may find both a built-in wet bar on one side and a galley on the other. This combination can be quite nice, as it provides maximum counter space and cabinet storage space.
With a setup like this, you don't have to get creative with your boat storage ideas.
Galleys
Galley kitchens inside our homes are designed as maybe one or two walls where all the cabinets and appliances are hooked up.
Since a pontoon has minimal space for these kitchen accessories, you'll typically see galleys lined up along either the port or starboard railing.
You can find pontoon bar galleys with many amenities including mounted stoves. On the other hand, you can also find them very minimal with only counter space and a bit of cabinetry to store items. In the latter case, the galley is paired with another standing bar feature.
One thing to mention: Keep in mind that none of these bar tops are adequate for preparing fish. If that's something anglers are looking for, many pontoon manufacturers carry pontoon models offering an optional fish station.
6 Pontoon Boats with Enviable Bars for Entertaining
Whether it's cocktails or appetizers you're after, here are a few boat models with bars in the layout.
To find out what type of pontoon bar is suitable for you and your family, think about how you entertain in your own home.
Do you typically sit gathered around a table? Or are you too active and prefer to stand to eat and run?
1. Bennington
Bar Type: Portside Bar (Optional Starboard Galley)
Seating:

 

Standard Height Chairs
Bennington's G22 Bar and Galley Pontoon Boats have very nice touches like under lighting at the bar and cup holders for those moonlight cruises. Although you won't find the sink at the galley side, you'll find it in front of the bar.
The bar does not have stools, per se. Instead, it has reclining swivel chairs, which to me is much more luxurious.
The starboard galley is optional. With the sink in front of the bar, if you feel you need the counter space and storage beneath to hide away all the plastic tumblers and plates your heart desires, I'd suggest adding the galley. Again, Bennington adds nice touches like stainless railings.
2. Veranda
Bar Type: Bar Top
Seating: 2 Club Chairs
Also called the Vertex Bar Series, standard features of this series include lighted drink holder, a tilt-out trash can and a fiberglass bar with deluxe seating.
It only consists of a bar top, not the whole shebang wet bar or even a galley area. But if you never intend to mix cocktails and need a prep station for snacks, this might be just all that you need.
Keeping it simple by preparing lunch ahead of time is how most 'tooners think. And the more counters you have, the more you'll need to clean up at the end of the day. For some of us, this is plenty of space for entertaining.
Veranda's Relax Series Bar differs from the Vertex Bar in one major way. It has a non-skid vinyl bar top instead of fiberglass. But that's just the bar feature.
The Veranda Relax Series is an entirely different model entirely. Their floor plans are very similar, but the Relax series has more optional upgrades.
3.
 Sylvan Mandalay 8525 Bar
Bar Type: Aft Bar and Port Galley
Seating: 2 Stools
Sylvan's bar is located in the aft, which is a bit unusual placement by pontoon bar standards.
The most impressive part, in my opinion, is the pop-up glass and plate holder, located on the back of the bar's top. It was a smartly-planned use of what could have been wasted space behind the bar.
Other features include a faux granite countertop, a sink (which I find to be larger than average for these bars) and a pull-out drawer where a cooler is stored beneath.
The portside galley adds a bit more counter space for preparing drinks. With this galley, you have the option of adding a small fridge. In addition to the bar, located on the starboard side are two bucket seats with a built-in insulated cooler between them.
4.
 Godfrey SanSpan 2500 WetBar
Bar Type: Wet Bar
Seating: 2 Barstools
If you love to entertain guests and prepare fresh meals right from your pontoon, this bar area feels more like your own personal kitchen space.
Visually separated by the bar and optional flooring change, if you're looking for a lot of counter space to spread out for a burger-building station—this is your pontoon!
Aside from the overall space, it has most bells and whistles other pontoon bars incorporate like cup holder lighting and stainless steel rails (to keep that drink from sliding off).
5.
 Avalon Pontoons 2018 Ambassador Entertainer
Bar Type: Wet Bar and Port and Starboard Galley
Seating: Booth Benches
Avalon's Ambassador Entertainer Bar will make your jaw drop. Not only is it aesthetically pleasing but nothing was spared in this fully-equipped galley and wet bar combo.
Corian-like counter surface with an electric refrigerator, a built-in sink with stainless faucet. There are even hidden cold-storage compartments. Avalon really utilized every square inch of volume in this bar. Not much empty space to speak of.
You can cook your meals at the aft prep center and take your plate to an illuminated bistro table. On the bistro table is a curved stainless double wine bottle holder, but the coolest thing—a hidden wine rack beneath them that raises with only the push of a button.
6.
 Manitou SES Series

SES Bar
 Bar Type: Bar Top
Seating: 4 Bar Stools
Manitou's SES Bar has no galley sink or extra counter space. It only comes with the bar top and four adjustable height bar stools.
The main difference the SES Bar has from the Entertainer is a lounge bench placed starboard where the galley or wet bar would normally go. If you plan to store your food and drinks in a personal cooler, no big deal. But something to consider.
SES Galley
This galley is pretty decked out. A built-in grill for flipping burgers, a refrigerator to keep your drinks cool and a sink to wash up.
The only difference the SES Galley has—compared to the SES Entertainer and SES Bar—is bench seating.
Without a bar top, it will feel like the equivalent of taking your drinks into the living room, except there's not even a cocktail table. If you feel the need for some sort of flat surface to eat on, this may not be the bar boat for you.
However, I do like the open space it provides without the table. And bench seating is more family friendly, allowing children to cozy up without having to be lifted up to a bar stool. If you allow pets on seats, they can jump up freely too.
SES Entertainer
Bar Type: Bar Top and Galley
Seating: 2 Bar Stools and 1 Bench Lounger
The Entertainer is the most bar space you can get from Manitou Pontoons. Like the SES Bar and SES Galley, it has both a bar table and extra counter space.
The SES Bar's lounger is replaced with the wet bar including a sink, mountable grill and refrigerator below.
The seating consists of a pair of height-adjustable stools on one side of the bar top, and a bench on the other. One nice feature I absolutely love it is that the bench converts into a sun lounger.
This list is by no means the entire world of pontoon boat bars on the market. And of course, there are more pontoon models designed every year.
If you don't see exactly what you like, talk to your favorite manufacturer about having it custom made. It's important to find a pontoon fitting your particular needs.
Once you're set up, entertaining on the lake can be a lot of fun.
Of course, with a bar on board, just remember that it's important to drink responsibly (yes, even if you're not the captain).
Heavy drinking to the point of getting plastered can result in falling overboard and creating an emergency situation. Being alert when on the water can mean life or death.
Have fun entertaining, but be safe on the water!
For all your accessories and/or vinyl flooring visit Pontoon Depot's shop site.