Top 5 Reasons to Own a Pontoon Boat
Top 5 Reasons to Own a Pontoon Boat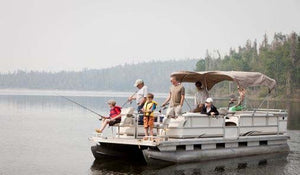 On the pontoonMakin' waves and catchin' rays up on the roofJumpin' out the back, don't act like you don't want toParty in slow motionOut here in the openMm, motorboatin'
(Pontoon – by Little Big Town)
Now that we have that song stuck in your head, you might be wondering what all the fuss is about. Well, if you've lived the song, you know that a pontoon can be loads of fun for the whole family. If not, here are the top five reasons why owning a pontoon is so enjoyable.
5. Storage, storage and more storage.
You won't find many boats that offer the storage capacity of a pontoon. There's hidden storage under just about every seat available, and often storage compartments in the flooring too. Pack it full of coolers, food and camping gear, and you're all set for a weekend on the water.
4. It's a smooth ride.
Even in rough waters on the lake, you'll have a smooth and relaxing ride on a pontoon, whether you're running it hard for speed or simply coasting along. It's so smooth, in fact, that you could easily bring a grill along to barbecue as you coast.
3. There's room for… everyone.
Pontoons are incredibly spacious, with seating often available for up to 12 people (or more, depending on how many adults and how many kids you have on board). Even then, there's still space available for walking, coolers, and to kick back and enjoy the ride (seen #5).
2. Everyone will enjoy it.
Young or old, a pontoon has far more to offer than any other boat available. The flat flooring makes perfect sense so grandpa and dad can easily fish, made especially better by
MariDeck Boat Flooring
. Meanwhile, mom, grandma and the kids are jumping off the back for a swim. Go for a spin and enjoy the scenery and the breeze, or pull up to a sand bar for a picnic lunch.
1. Embrace family time.
A pontoon offers a great opportunity to reconnect with your family over several generations. Customize your boat to fit the needs of all your passengers and spend a weekend on the water, disconnected from the busy world we all live in (after all, you likely won't have any cell phone coverage out on the lake).