US Staff Sergeant Transitioning To Pontooning
US Staff Sergeant Transitioning To Pontooning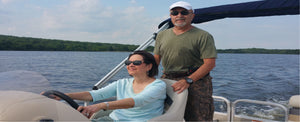 By: PDBMagazine
After graduating college, Gilbert H. Weiss served in the US Army and USAR from 1967 through 1974. He was on active duty in 1967 and 1968, and spent the rest of his military time in the US Army Reserves. Gil came to attain the rank of Staff Sergeant and functioned as medic, later becoming the motor sergeant for the 348th General Hospital

Gil and his wife Carole have always loved being out on the water, and sailing was their favorite means of accomplishing this. Having been married for 53 years, they've also been sailing together now for 55. Gil and Carole owned a sailboat for 25 years and they spent a lot of time enjoying themselves on it. Their two sons also enjoyed boating and fishing with them too.

However, last year Gil had a major knee issue which affected his mobility, making him realize that sailing might not be the safest means of recreation anymore. This being the case, Gil and Carole decided to sell their sailboat last May. On the same day he sold the boat, they bought themselves a Godfrey Sweetwater pontoon which they playfully named Knot 4 Sail.

They bought their pontoon from Highway Marine in Quakertown, Pa. Gil and Carole have known the folks at Highway Marine for quite some time since they stored and served their sailboat for several years, and they've always been pleased with their excellence in service.

"The pontoon boat decision was based on several wonderful experiences with rental pontoon boats at the New Jersey shore with our family," shared Gil. "It's easy on and easy off with comfort and ease of operation. It's simpler to maintain too."

They're looking forward to spending the rest of their summer "tooning," and they've found that their sailing friends enjoy their floating patio too. To top it off, Gil's knee is feeling much better thanks to physical therapy and daily exercise.
For All Your Accessories and/or Vinyl Flooring Visit Pontoon-Depot's Shop Site.