Used Boat, New Flooring: Now We're Talking Smart Investments
Used Boat, New Flooring: Now We're Talking Smart Investments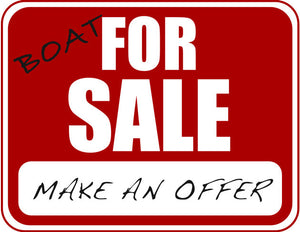 There's nothing better than that new boat smell.
Pristine vinyl. Unblemished fiberglass. Never-been-used wood and steel.
Smells like ... depreciation.
The second you tow a new boat off the showroom lot, it loses 25-30 percent of its value. When you buy a high-quality previously owned boat from a reputable source, on the other hand, the original owner paid that depreciation for you.
People ditch boats for all kinds of reasons. In a lot of cases, they simply underestimate the cost, use it a few times and sell it while it's still mint.
In short, buying used can make a lot of sense, provided you get a marine surveyor to inspect it for you before you sign. Once you get the all clear, you can walk away with a near-pristine vessel at a fraction of the cost. Even better, it's likely that most of the initial kinks and quirks were worked out by the previous owner or the refurbishing company.  
Most importantly, you'll be able to put some of the money you saved right back into your new used boat.
That means tearing out that disgusting marine carpeting that's dragging down your new baby. Even if the boat has only been taken out just a few times, you'll notice the wear on even lightly-used boat carpeting. Once it gets dirty, which is inevitable, marine carpeting is impossible to clean to its original state.
High-quality vinyl flooring like MariDeck, on the other hand, can make a used boat look brand new. With your choice of colors, textures and patterns, it will always look great — but looks aren't everything.
With good boat flooring, you can walk on water — literally. Boat decks get wet, but with MariDeck, wet does not equal slippery. Your floor will safe and slip-free while you're on the water, and cleanup is a breeze when you're back on land.
Unlike boat carpeting, some quick, basic maintenance will have your MariDeck surface looking brand new time after time after time on the water.
Consider going used. If you play it smart, you'll get more boat for less money without making any real sacrifices in quality. That will leave you with a little left over to invest in the industry's best flooring.