Your Boat: The Best Teacher Your Kids Will Ever Have
Your Boat: The Best Teacher Your Kids Will Ever Have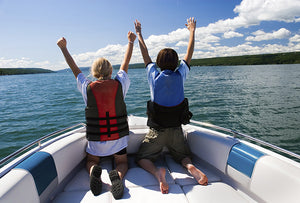 Are boats too dangerous for young children?

No. You know what's dangerous? Children walking around with their faces buried in a phone because their best friend is an avatar and they only experience life through a three-inch screen.

What's dangerous is when catching a Pokemon on a tablet is the only challenge a kid faces throughout the day.

If you own a boat, you have a unique opportunity to expose your kids to the natural world, expand their minds and challenge them with something bigger than getting the most followers on Instagram.

Whether it's a month-long journey in the summer or a day trip on the lake, a boat can teach your kids more about science, math, geography and history than they could ever learn in school.

While they're learning, they'll be living what will go on to become the best and most important memories of their entire lives.

Be safe, be smart and prepare your boat for scampering kid feet.

That means investing in good flooring that can handle the rigors of all that kids dish out. Boating adventures with children — particularly extended boating adventures with children — involve eating, drinking, sometimes fishing and always playing.

Unlike boat carpeting, which gets gross quickly, MariDeck flooring is super easy to clean. Most importantly, however, it is slip resistant and safe, no matter what the condition.

Your boat is a vacation that you can pull with trailer. It's a lesson in every major academic subject at the same time. It's a portal to the larger world beyond your kids' familiar bubble. It's a home away from home and a mechanism to challenge your kids to push themselves and learn.

So, plan your next trip on or around the water. Tell your kids to leave their phones at home so they can experience the world as it really is. Make sure your boat is ready for the challenge by investing in quality flooring, chart a course and make some memories.