4 Tips for Restoring Your Pontoon Boat | Pontoon-Depot
4 Tips for Restoring Your Pontoon Boat | Pontoon-Depot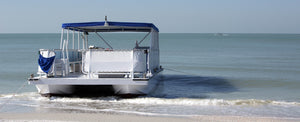 By: Ejectomat
It may be more affordable for you to restore your old pontoon boat instead of replacing it with a new one. This article discusses the components that you should pay attention to during that restoration project.
The Deck
The deck is arguably the most essential component of any pontoon boat. Inspect the deck carefully so that you identify any defects that can shorten the service life of the restored pontoon boat. Check for signs of rot, such as sponginess. Use a flashlight to look underneath the deck to identify damaged sections on the lower side of the deck. You can even pull up parts of the carpeting to take a closer look at the areas that seem to be affected by rot. Replace the damaged sections with marine-grade plywood.
The Pontoons
Check each of the pontoons carefully for any signs of leaks or corrosion. Remember that a previous owner may have masked a corroded section of a pontoon by painting over it. You should, therefore, be keen and spot any painted areas that don't look identical to the surrounding areas. Use an appropriate material, such as putty, to fix any holes that you see in the pontoons. Weld any areas that are corroded.
The Furniture
Pontoon boat furniture plays a vital role in the aesthetics and functionality of the boat. You should, therefore, give this feature sufficient attention during the restoration project. Pay special attention to any furniture that has wooden frames since wood rot may have affected them. Check the upholstery for rips and tears. Base on the inspection results to decide whether to replace or conduct repairs to the furniture. Remember that it may be easier and less costly to replace the degraded furniture instead of trying to fix numerous defects in it.
Customisations
The restoration project should be regarded as an opportunity to add the features and adjustments that will make that pontoon boat to be better suited to your needs. For example, you can add ladders, an audio system and extra table space to make the boat more user-friendly. A lot of careful planning and budgeting should be done before the restoration project begins. This will save you from spending more money trying to restore an old boat than what you would have spent if you had opted to buy a new or used pontoon boat.
Consult experienced pontoon boat owners or repair professionals about the suitability of each major decision so that you don't make a mistake during the restoration project.
For all your accessories and/or vinyl flooring visit Pontoon Depot's shop site.