9 Tips For Tube Towing With Kids | Pontoon Depot
9 Tips For Tube Towing With Kids | Pontoon Depot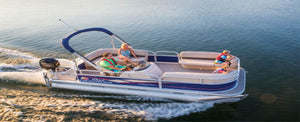 When it comes to summertime fun on the water, it's hard to beat the inflatable tow tube. There's just something irresistible about the thrill of bouncing over waves behind a boat, that kids and the whole family love. Plus, it's one of the most versatile activities for people of all shapes, sizes, and skill levels.
When gearing up for a day on the water, it's important to be prepared before you head out. Be sure to read the warning labels, follow the manufacturers' recommendations, and properly check your gear so that you can stay safe and have fun. 
Here are some tips to keep in mind the next time you take your family out tubing:
 1.) Always Wear a Life Vest: Anytime a child is on the water it's important that they are wearing a life vest. Fit is one of the most important factors in determining the safety of a life vest. It should be snug enough that when you pick a child up by the shoulder straps it doesn't slip past their ears and chin. There are many different life jackets designed for kids of all ages available at Bass Pro Shops http://www.basspro.com/webapp/wcs/stores/servlet/Navigation?storeId=10151&catalogId=10051&langId=-1&searchTerm=life+vests+for+kids
 2.) Choose The Right Tube: Not all towable tubes are created equal – some are built for speed, others provide a more leisurely ride. Some are designed for one person and others can fit three or four. To narrow down your options, consider how many people you want to tow and how wild they want their ride. Kids of all ages enjoy tubing, so look carefully at weight restrictions and your boat's horsepower before picking out a tube.  A good place to start is with the selection of tubes at Bass Pro Shop (http://www.basspro.com/Towable-Tubes/_/S-12850004002) or stop by your nearest Tracker Boating Center to check out their selection of tubes.
3.) Invest in a Proper Tow Rope: One of the main causes of tubing accidents is due to tow rope failure. This is easily avoidable if you invest in a proper rope and you make sure that it's attached according to the manufacturer's guidelines. The rope you use will depend largely on how many people the tube will carry. When buying your rope, check the tube manufacturers' recommendations for specific tow rope requirements. Also, make sure to check for signs of wear, tear and fraying and replace your tow rope as needed.
 4.) Know Your Boat: Whether it's a pontoon or a fishing boat, the horsepower of your engine will determine your tube-towing capacity. For example, the approximate top speed of a 20-foot pontoon with a 50hp FourStroke engine is 15-18 mph. This speed might be best for younger children, or those who don't enjoy the higher speeds. With that in mind, you can more easily narrow down your tube and tow rope options.
 5.) Check For Proper Inflation: One of the quickest ways to damage your towable is under inflating it, which not only affects the performance of your tube, but also the longevity. Similarly, overinflating can cause damage to the PVC bladder and it might also rip seams in the cover. Make sure to follow the manufacturers' recommendations for proper inflation.
 6.) Have A Spotter: There should always be a designated spotter onboard to alert the driver if the rider falls off. The spotter should keep track of the rider and be on the lookout for other swimmers in the water, as well as nearby boats.
 7.) Practice Hand Signals: Before taking off, make sure you and your crew have agreed upon a set of hand signals, just like water skiers use. For example, a 'thumbs down' could mean that you're going too fast and a 'thumbs up' could mean they want to go faster. Using a set of hand signals will make it easier to communicate and check in with your rider.   
 8.) Avoid prime time: Peak traffic hours on the water are generally between noon and 4 p.m., when the temperature is at its hottest. Consider going out in the morning or in the evening to avoid the crowds.
 9.) Just Relax:  Finally, remember that a tube can be a whole lot of fun when parked in a bay and tied to your boat or pontoon. Kids can jump off and swim around it, or just hang out and relax.