Swimming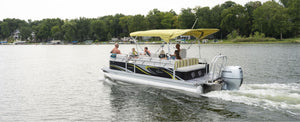 The Finer Things In Life Qwest LS 820 Lanai Cruise
By: PDBMagazine
We all enjoy the finer things in life—those simple pleasures with a touch of elegance and luxury mixed in. Whether it is a five-star meal or a Pulitzer Prize-winning book, we all enjoy some sophisticated quality in our lives from time to time. Qwest recognized this universal tendency to seek out classy comforts, and it definitely shows when you take a look at their Qwest LS 820 Lanai Cruise.

Qwest Pontoons are known for their high-quality vessels and this high-end, luxury pontoon is the perfect example of what helps their brand stand out. Every boat this manufacturer builds is designed and engineered in-house at their factory in St. Louis, Mich., to ensure their high quality standards which are evident in the fit and finish work.

The PDB staff was lucky enough to test drive the 820 Lanai Cruise recently, and we have to admit, this stunning boat left quite the impression.

Light As A Feather

The 820 Lanai Cruise is not only a luxury model, but a performance model as well. We felt like the Suzuki 150 was a perfect match for this boat, giving it plenty of power to skip across the lake. This boat comes with the option of the Gen II Triple Tube package, allowing for the boat to have that full-length center pontoon. The Gen II Triple tube package not only includes a full-length center tube, but also comes with perks like the hydraulic steering, ski/tow bar, aluminum underskin and rearview mirror.    

The 820 Lanai Cruise also boasts a lightweight design which allows you to achieve better flotation and capacities with smaller diameter pontoons. This makes the boat easier to maneuver whether you're out on the water or trailering your boat behind the truck.

The triple tubes coupled with the lightweight design and furniture allow the boat to ride impressively high in the water, and the SeaStar hydraulic steering makes turning the boat a pleasure. In addition, it also has a great turning radius. Plain and simple, it's just an all-around fun boat to drive.

Heavenly Helm

The captain's area is enough to make any pontoon enthusiast swoon. Stepping up to the helm, the Humminbird Helix 5 Sonar Color Combination GPS/fishfinder is the center focus. It's situated in the perfect location, always providing necessary information. Then you've got your other gauges with rocker switches on either side, along with the Infinity PRV Bluetooth stereo system controls just to the right of the steering wheel with a convenient USB port alongside it. Additionally, the handsome stainless spoke steering wheel offers soft grip and wood-grain accents along with an adjustable tilt steering system.

Having a smaller helm definitely saves some space in the cockpit, but despite its compact size, everything you need is still right in front of you at your fingertips. The helm is an all-fiberglass design with a lovely wood grain dash that also matches your table and some of the other panels. The gauges are all stainless steel, and the Infinity stereo comes standard with four speakers that are ready to get the party started.

The helm offers a personal stainless cupholder for the captain with a dry storage right above it for boat papers or other personal items. The RAM universal cell phone mount is also a convenient feature, giving you easy, hands-free access to your phone. Then don't forget the PTM Edge rearview mirror. We feel like all pontoons should come standard with a mirror like this because it makes it much easier to keep an eye on things for water sports or even just cruising around.

Definitive Details

Going right down to the very threads of the furniture in the 820 Lanai Cruise, the hand-crafted quality and innovation could not be more apparent. The Ultra Flow seat ventilation encourages optimum air flow inside the seat bases which helps to dry items stored beneath the seats. This prevents mold or mildew from forming and helps keep your boat spick and span. The seat bases are made from proprietary Dura-Lite composite material which keeps the boat lighter and stronger while providing generous amounts of storage space.

Even the mount pedestal for the wood grain table is worth noting for its low profile that stays out of the way when not in use. You'll never have to worry about stubbing a toe because it's flush with the floor and it's even got a nice little rubber cap for when it's not in use.

Naturally, all of the tables and posts store comfortably under the seats, so everything's nice and out of the way but still ready to use whenever you want it. The boat also has Diamond Seagrass luxury woven vinyl flooring which is a lovely touch. All of these details make it easy to see why this is part of the Luxury Series from Qwest.

From Front To Back

The 820 Lanai Cruise is packed with tons of great features from bow to stern. The boat is rated for up to 11 passengers which is a fantastic capacity for its size, supplying plenty of comfortable, soft-touch vinyl seating throughout.

At the stern of the boat in the swim deck area, there's a large bench-seat section with great storage below. As mentioned before, the pontoon comes with a solid ski/tow bar, and our test boat was equipped with a big Suzuki engine that provided the boat its ample power.

It also has a comfortable contoured aluminum rear ladder which has four big steps that swing out. This is actually the same ladder Qwest used for its Avanti model last year. Qwest had such success with this particular ladder they decided to bring it over to the Luxury Series along with the stainless steel corner caps. This ladder has been hailed for the ease that accompanies getting up and down out of the water. This is yet another example of one of the luxury items that became standard in this series.

Stepping Back

Qwest clearly infused its LS 820 Lanai Cruise with comfort, performance and sophistication, never straying from their reputation for quality pontoons. Right down to the details, the boat is peppered with small luxuries that contribute to a fantastic boating experience.

From the lightweight design to the fit and finish, this boat quite simply provides pontooners with some of the finer things in life.
For All Your Accessories and/or Vinyl Flooring Visit Pontoon-Depot's Shop Site.