BEAT THE SUMMER HEAT ON YOUR PONTOON BOAT
BEAT THE SUMMER HEAT ON YOUR PONTOON BOAT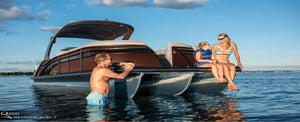 There's no better place to beat the summer heat than on your own pontoon boat. Why sweat through another dog day of summer when you can float instead? Here are some ways -- some fun, some relaxed, some elegant -- that a Bennington pontoon boat can help you beat the heat. 
Bench seat coolers. Available on some models, a bench seat cooler will keep your beverages cold and your ice frozen through the hottest day. They're self-draining, to keep cold foods cold without getting them soggy. Other cooler locations are available: options vary by model. 
Bars, galleys and dinettes. Depending on your Benny's model and outfitting, you'll have the facilities to prepare a delightful round of mixed drinks or a variety of cold appetizers for your guests from the built-in bar or galley, and to serve it in comfort around a dinette table. 
Drink holders galore. Keep your guests hydrated by making sure they have a beverage close to hand at all times. With fixed and movable drink holders for almost every seating position, Benny boaters never lack for a convenient spot to park a can or a glass. Special RGB lighting options for the drink holders enable your friends to able to find their drinks even at night. You can even order refrigerated cup holders, to keep drinks cold no matter how long your guests nurse them on a hot day. 
Cool in the shade. Any Bennington pontoon boat can be equipped with a retractable sunshade or bimini top. This is an especially important option for children, the elderly, and others with sensitive skin, but with what we know about the potentially harmful health effects of too much UV exposure, we recommend that all boaters take measures to protect themselves. A canvas top is therefore both a health and a comfort benefit. They retract quickly and easily, and they're strong and stable enough to handle cruising at comfortable speeds even when deployed. Top-quality fabrics retain their color and their strength through years and years of use. 
Swim platforms and ladders. Of course, swimming is one of the best ways to cool off in the summer, and a swim ladder is one of the most popular options, making entering and exiting from the water easy. Some Bennington pontoon boats additionally have large and comfortable swim platforms, which are a great place to don and remove swim fins and other gear, or to just sit with your feet in the cool water, a bit away from the conversation in the cockpit. 
So tow me! With ski tow options, your Benny pontoon can pull a water skier, wakeboarder, or a bunch of kids on an inflatable towable water toy -- and there are few ways in the world to cool off that are more fun than that. With the right power package and running equipment (such as our Elliptical Sport Package), you'll have the power and handling to satisfy even experienced towable-sports athletes.
Stay cool this summer and for summers to come with a Bennington pontoon boat. 
For all your vinyl flooring options or replacements visit our Pontoon-Depot flooring page, and/or for any accessories to add to your already awesome pontoon boat check out our unlimited accessories page.