2020 Lowe Pontoons & Fishing Boats: You Can Be The Captain!
2020 Lowe Pontoons & Fishing Boats: You Can Be The Captain!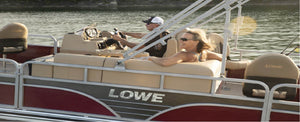 By: Lowes Boats
Admittedly, taking the helm of a boat for the first time can feel intimidating. But aboard a pontoon boat, it doesn't have to be.
When most people think of boating, they picture driving a speedboat or a cruiser — something with a big engine (or two) and a deep-V hull. That hull allows the boat to "plane"; after rocking and bouncing through the water, it jumps up and rides on top of it. Fast.
While that seems exciting, to a newbie it also may paint a picture of too much power and too much happening. A first-timer might not want to worry about popping onto plane, trimming the boat correctly and reading waves to cross them at just the right angle.
Pontoon boats, on the other hand, are as user-friendly as they come. Just think: A new pontoon boat is basically a stable, flat deck attached to long, wide tubes for flotation. And although some pontoon boats can be equipped with high-horsepower engines and specialized performance equipment that allow them to get onto plane, the majority just slide comfortably through the water on their pontoons.
That means sitting in the captain's chair on a best pontoon boat just may be one of the easiest, most rewarding things you've ever done. Turn the key. Use the throttle to move the boat forward or, if necessary, in reverse. Use the steering wheel just as you would in your car.
If you're not sure whether or not you'll enjoy driving a pontoon boat, and if the decision to purchase a family pontoon boat hangs in the balance, consider renting one for a few hours to see if you like it. Pontoons are so easy to operate, they've become one of the most popular types of boat rentals around the country.
You can rent a pontoon at the seashore, on the Great Lakes, on an inland lake, at a reservoir and even on a river. The city of Milwaukee, for example, has a thriving pontoon rental scene in the heart of downtown. You can cruise along the river, take in the sights, and then tie up at one of the many popular restaurants and watering holes.
Just remember: Learn the rules of the road, be mindful of posted speed limits and no-wake zones, check to see if your particular waterway has any special restrictions, and ensure that all children under the age of 13 are wearing approved personal flotation devices (PFDs). And later on, if you discover a real passion for pontooning, consider taking a boater education course.
See you on the water!
For All Your Accessories and/or Vinyl Flooring Visit Pontoon-Depot's Shop Site