HOW TO TAKE CARE OF YOUR PONTOON BOAT DURING THE SUMMER HEAT
HOW TO TAKE CARE OF YOUR PONTOON BOAT DURING THE SUMMER HEAT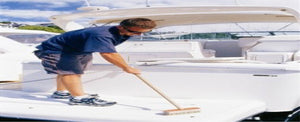 By: Pontoon Graphics
Taking a spin on your pontoon boat is a great way to stay cool and have fun. However, if you want your pontoon boat to last for more than one summer, you have to take care of it. But how? What do you need to do? Starting a maintenance routine isn't difficult, and the information below will help you decide what to tackle.
Check the Fluids
Always check the oil before you venture off into the water. Is the oil dark in color? Have you reached a service interval for your engine? Change the oil. Some people avoid doing this out of fear of causing damage to their boat, but it's an important task that every owner needs to learn how to perform. Changing the oil for a boat is easier than changing the oil for a car and takes under an hour to complete.
Clean, Clean, Clean
When you bring a group of friends out on your pontoon boat, you're going to end up with a mess after the party concludes. Empty cups and other debris could litter the table and floor, and you can't let them sit there for too long. This is a safety hazard – if something is blocking an exit point, escaping during an emergency will be difficult. Taking a few minutes out of your day to clean can make a big difference.
Lubricate the Steering
The intense temperatures present during the summer can jam or rust the steering parts on your pontoon boat. You need to do what you can to keep this from happening. Lubricate the steering linkage as thoroughly as possible. If you're worried you may forget to do this, set a date for the task and note it on your calendar.
Pontoon boats bring entertainment, but they also need care in order to
Pontoonboatgraphics.com is the nation's largest provider of high quality vinyl pontoon boat graphics and decals. We pride ourselves in producing top of the line 3M vinyl graphics. Our 3M vinyl is nationally recognized as the best in the industry – why settle for anything less? Click here to get started or give us a call at 1-(888) 934-6578 and we'd be happy to help you!
Pontoon-Depot.com is one of the nations highest qualiy distributors of vinyl flooring for pontoon boats. We also carry any, and all, pontoon boat accessories you could ever need. Feel free to click on any of our links on the other pages of this site for more information, and/or contact us through the contact "us" page. Happy Tooning!