It's not always sunny at the boat sometimes you just have to deal...
It's not always sunny at the boat sometimes you just have to deal...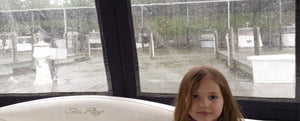 By: MyBoatLife
..with a rainy boat day… here are a few ideas to stay entertained on rainy boat days.
The pitter patter of rain falling down on a boat can be a total bummer. Most people don't like to be stuck on their boat when it is raining, but sometimes it is inevitable. Whether you plan a trip on the boat not knowing rain is coming, or you are such a boating die-hard (like us) that you go to the boat regardless of the weather forecast, it's best to have some ideas for rainy day boating activities on-hand.
Most rainy days we spend on the boat tend to be periods of on and off rain. It's enough to ruin a boat trip, swim in the river or dip in the pool… but you can still find some activities to make the best of foul weather. In fact, sometimes a break from the sun is actually a good thing!
Here are some rainy day boating activities and ideas to get you through your next cloudy boat day.
Watch a movie
This is often our number one rainy day boating activity. We always keep movies on board to keep the kids busy when there is downtime anyway, but it is especially important to have a selection of movies on the boat for rainy afternoons.
Take a nap
Yes, an unexpected rain fall on a boat is the perfect opportunity to take a nap! Let's face it, we don't nap enough. Take in the gentle sound of rain falling on the top deck, relax and Curl up in your berth and take a nice long nap.
Do a crossword puzzle
We always keep extra crossword puzzles and word games on board for when we have downtime on our boat. It's a great independent activity to do when you are sitting under the canvas in the rain. If you don't have the old fashioned printed kind, you can probably even access a word game with your smartphone.
Play a board game
A few simple board games are also great to have on board for down time or rainy days. Make it a simple game that is age appropriate for the entire family to get involved in the fun.
Tap into your technology
Chances are you have at least a few high-tech gadgets on board to keep you and the kids entertained on the boat when it is raining. Whether it is your laptop to surf the internet (that is if you can get a good internet connection at your marina), game apps on your smartphone or electronic kid's games, everyone can keep busy while they are waiting for the rain to pass.
Watch the radar
Most captains we know love to watch the radar on their boat to see the weather moving in over their area. Make it fun by teaching your kids how the radar works (not an easy thing to do on sunny days!), or keep an eye on it to check for breaks in the rainy weather to plan activities later in the day.
Go fishing in the rain
Many anglers know that fishing is always good in the rain. Cloudy days and less boating activity in the water always seem to attract more fish. Of course if it's raining too hard it may not be fun, but a light drizzle shouldn't stop you from grabbing your tackle box and fishing from the dock or back of the boat.
Explore your local town
Many boaters keep their boats in an area that is close to waterfront towns. And you usually spend more time on the water swimming, tubing or going on cruises than you do checking out your local towns. A rainy day is the perfect time to take a short drive into town to go shopping, check out local attractions or have lunch at a local restaurant. We have some outlets that are a short drive from our boat – its great way to get off the boat and kill time while it's raining!
Tidy up the boat
This is definitely not the most fun rainy day activity, but unexpected rain on a boat is a good chance to get things a little more organized. Clean the cockpit and interior cabin and do all the other chores you don't normally have time to do when you are enjoying the boat on sunny days. You may even have enough time to get a little project/repair done.
Plan a boat cruise
Pull out your waterway guide or jump online to plan your next cruising destination. Take the time to think about where you want to go next with your boat. Marinas are often less busy on rainy days so it may be a good time to make some calls for transient reservations.

Socialize on the dock
Well this is one idea that should be a no-brainer! If you keep your boat docked at a marina then you know how much fun the social scene can be on the dock. Take a visit to your slip neighbors when it's raining. It's always more fun to sit in the cockpit under the canvas with others socializing and complaining about the weather together. Of course don't forget to ask the customary "Permission to board?" before climbing on board with your travel cooler of beer for an afternoon of rainy day boat cocktails. 
You will no doubt have some rainy days on the boat. So always be prepared with a few ideas to pass the time while it's raining. In fact, I wrote this entire blog post one rainy afternoon on our boat!