BUYING YOUR FIRST PONTOON BOAT | Pontoon-Depot
BUYING YOUR FIRST PONTOON BOAT | Pontoon-Depot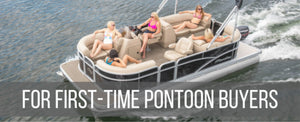 Searching for your first pontoon boat doesn't have to be overwhelming, even if it may seem like it at first. You know pontoon boats are the most versatile craft on the water, so whatever you get will be able to accommodate your specific desires. Still, you can hone in further to make sure you get the ideal boat for what you like to do, while maintaining the versatility that will allow you to enjoy other activities, as well.
Call it a "starter boat" if you want, but with all the possibilities available, you'll consider yourself a boating veteran in no time.
WHAT DO YOU WANT TO DO WITH YOUR PONTOON BOAT?
If you plan to use your boat for skiing, tubing, and other water sports, you need to look into a model with a powerful engine and easy access in and out of the water.
Prefer lounging, entertaining, or fishing? If so, you can focus less on the boat's power and more on its deck space, seating capacity and configuration, and specialty fishing accessories like a live well, fish locator, and fishing chairs.
Again, because pontoon boats are incredibly versatile, you won't be sacrificing one activity in order to get another. Instead, think of it as maximizing the activities you will do most often.
For more of the basics to consider, check out Four Questions to Ask Before You Buy.
FIRST PONTOON BOATS: GET A LOT FOR A LITTLE
One of the best features of pontoon boats—at all price levels—is how much you get relative to the cost. The value of a pontoon boat is unbeatable.
When looking for a starter boat, there are three Manitou models we recommend you look at right away, to get Manitou's industry-leading performance at an affordable price:
AURORA
Known as the most accessible pontoon boat on the water, the 2018 Aurora has all the craftsmanship and performance you expect from Manitou, but at the most attractive price in the line.
AURORA LE
The most customizable Manitou line, Aurora LE, lets you choose exactly what you want while getting unmatchable performance at this price point.
AURORA ANGLER LE
Built for the fisherman, the Aurora Angler LE is extremely customizable and adaptable to all pontoon activities. This model gives you the fishing chairs and accessories you need to spend the day angling on the water.
FIND YOUR PONTOON MODEL 
Pontoon boats are versatile, accessible, and affordable. If you're looking for your first pontoon boat, the Aurora models will give you value you can't find anywhere else.
For more information on our Auroras and all the other Manitou pontoon boats, take a look at our buying guide, and get connected with a Manitou dealer near you.
For all your accessories and/or vinyl flooring for your Pontoon boat, check out Pontoon-Depot's shop section.