Meticulous Maintenance | Pontoon-Depot
Meticulous Maintenance | Pontoon-Depot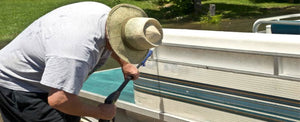 You love your pontoon boat. You take pride in maintaining it. You do so to protect your investment, keep your family and friends safe, and to look good out on the water!
Replacing shabby old flooring and seating is a no-brainer. These prominent pieces can be the difference between cruising in comfort and style or drifting in dishonor! Still, there's a lot more to peak pontoon performance than these most obvious objects…
Sometimes the smallest, most inexpensive component can save the day - or ruin it. Perhaps you know this all too well from past personal experience.
As you prepare your vessel for the summer boating season, be sure to look over every square inch of it. Is anything broken, missing, unsafe, or just plain ugly?
Consider the following list of inexpensive, easy upgrades/replacement parts:
Cleats

- Look for broken or missing cleats.

 
Fence Savers

- Cheap, easy way to defend against damage!

Fender Savers

- Cheap, easy, and precautionary parts.

Battery Box

- Keep it clean and contained.

Lights

- Do you need replacement lights, better lights, or more lights?

Fuel Tanks

- Do you need a new, larger, or auxiliary tank?

Fuel Line Kit

- Is it time to replace or improve?

Fuel Filter

- Often overlooked… Is yours due to be replaced?

Primer Bulb

- Is yours cracked, leaking?
Don't put to sea until your pontoon boat is pretty, polished, purring, and properly prepared!
If you need any of the above-mentioned items, navigate over to our safe, secure online shop: https://pontoon-depot.com/collections.
Pontoon-Depot is your simple, one stop shop for all of your pontoon boating needs!