pontoon boat corner fender saver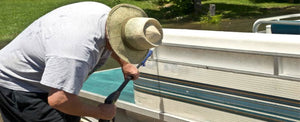 Meticulous Maintenance | Pontoon-Depot
You love your pontoon boat. You take pride in maintaining it. You do so to protect your investment, keep your family and friends safe, and to look good out on the water!
Replacing shabby old flooring and seating is a no-brainer. These prominent pieces can be the difference between cruising in comfort and style or drifting in dishonor! Still, there's a lot more to peak pontoon performance than these most obvious objects…
Sometimes the smallest, most inexpensive component can save the day - or ruin it. Perhaps you know this all too well from past personal experience.
As you prepare your vessel for the summer boating season, be sure to look over every square inch of it. Is anything broken, missing, unsafe, or just plain ugly?
Consider the following list of inexpensive, easy upgrades/replacement parts:
Cleats

- Look for broken or missing cleats.

 
Fence Savers

- Cheap, easy way to defend against damage!

Fender Savers

- Cheap, easy, and precautionary parts.

Battery Box

- Keep it clean and contained.

Lights

- Do you need replacement lights, better lights, or more lights?

Fuel Tanks

- Do you need a new, larger, or auxiliary tank?

Fuel Line Kit

- Is it time to replace or improve?

Fuel Filter

- Often overlooked… Is yours due to be replaced?

Primer Bulb

- Is yours cracked, leaking?
Don't put to sea until your pontoon boat is pretty, polished, purring, and properly prepared!
If you need any of the above-mentioned items, navigate over to our safe, secure online shop: https://pontoon-depot.com/collections.
Pontoon-Depot is your simple, one stop shop for all of your pontoon boating needs!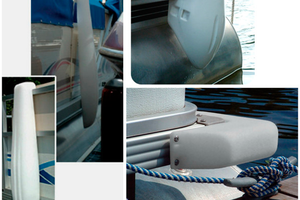 Top 3 Must Have Accessories To Protect Your Pontoon Boat
Dock damage is most common damage that pontoon boats experience while on the water. People tend to move around here the most - getting on and off the boat and settling cargo. Additionally sometimes the waves can be hectic and rock the boat up against the dock or other boats. Lastly it is very common for pontoon boats to have their decks dented at the corners when you are docking if you are unable to get the angle right when driving the boat in.
But don't stress, some simple and easy preventative measures to avoid damage to your pontoon boat is to purchase rubber bumpers for the corners of your pontoon boat deck. You may also want to invest in fence savers for your railings, these are specifically for protection when rafting with other boats or when you are in a crowded dock situation. And lastly a bumper that protects the space between your pontoons and deck. Three great accessories that will extend the life of your boat and keep it looking sharp.
With that said, here's our top 3 pontoon boat accessories to keep your boat ding free and you can find all of these bumpers right here at Pontoon-Depot.com. We got you covered.
1. TAYLOR PONTOON FENCE SAVER The fence saver secures to the fence or railing and is designed to prevent contact to the delicate aluminum fencing. The fence saver is especially effective preventing those nasty dings that occur when rafting a pontoon boat to a conventional hull boat.
2. TAYLOR PONTOON 90º CORNER FENDER SAVER Specifically for square shaped corners. The corner bumper mounts over the original factory installed aluminum corner section to provide air-cushion impact protection when docking. Made from special gray PVC formulated to match the aluminum color of the boat and secures with stainless fasteners.
TAYLOR PONTOON RADIUS CORNER FENDER SAVER Specifically for Pontoon Boats with rounded-shape corners. The Taylor Radius Corner Fender Saver is built the same as the 90º Corner Fender Saver the only difference being the shape.
3. TAYLOR PONTOON FENDER These unique fenders offer a level of protection to areas on the Pontoon boat other fenders can't provide. The Pontoon Fender is specifically designed to fit snugly between the pontoon and the deck of the boat, protecting both from rafting boats, docks, or other objects. All pontoon fenders are made from our own marine-grade, U.V. resistant vinyl and have an integrated rubber football style valve for easy inflation.