Pontoon Changing Rooms: How to Pick the Best One for You!
Pontoon Changing Rooms: How to Pick the Best One for You!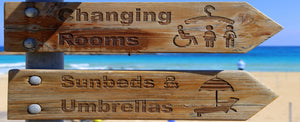 By: Better Boat
Have you ever been in a situation when you realized you need a pontoon changing room?
How 'bout the time you tried changing behind two friends, who couldn't stop giggling because they'd already downed a whole bottle of wine!
How'd that work for you?
You were probably either (A) mortified or (B) didn't care. ('Cause you helped them down that bottle of wine!)
Either way, your changing room is meant for privacy, to do anything that requires privacy. The style and size will determine how much privacy is provided and sets the tone for its uses.
This guide can help you find the perfect pontoon boat changing room, discussing reasons to consider and questions to ask yourself before picking your own. Plus, I'll touch on three different examples.
Reasons to Consider a Pontoon Changing Room
There are many reasons you might want a changing room on your pontoon, some you may not have previously considered:
1. Clothes changing. While you're on your pontoon, anybody on board might wanna change. It's nice to know you have a private place to go, instead of hiding behind friends.
2. Portable toilet. A changing room is perfect for housing a portable toilet, which can be a necessity, especially for long outings or if you have small children. It's always a plus for parties, too; some invited guests may not come if they're worried there won't be a bathroom.
3. Diaper Changing Area. For some parents, diaper changing requires privacy; other parents don't care. But, if a passenger has a baby in diapers, a private changing area is a nice option, especially when it requires more cleaning (or bathing!).
4. Breastfeeding. This is another gray area; some mothers don't mind breastfeeding in public, but others wouldn't dare. A changing room is a great place for privacy for both mom and baby.
5. Seasickness. Have you ever gotten sick in front of somebody? Talk about embarrassing! If you have a portable toilet in your changing room, a passenger has a place to go if nausea won't subside (even after using a seasick remedy) and until you can get back on dry land.
6 Questions to Answer Before Purchasing a Pontoon Changing Room
1. What Size Changing Room Do You Need?
This depends on the size of your pontoon.
Naturally, you might wanna get a huge one, thinking the more space, the better. While that's probably true, it might not work for your pontoon's size.
You need to consider the deck size and layout of your pontoon. How can you comfortably fit a changing room into your floor plan without compromising too much space?
Determine the best spot for setting up a changing room, as this will help determine the ideal type.
2. What Will You Use Your Changing Room For?
Will you use the changing room just for changing, or do you plan on adding a convenient portable toilet? Will it be a room to escape a torrential rain? (And if so, how many will need to fit in there?)
Consider all your needs, then determine the type and size you need.
Consider any pontoons accessories you may want to house in your changing room, too.
3. What's Your Budget?
What can you afford? With endless varieties on the market, you should be able to find one that's budget-friendly.
And remember: Unless you have a custom changing room built into your pontoon, you can always upgrade later.
4. What Weather Conditions Should You Consider?
You need to consider environmental factors that might affect the sturdiness of a changing room.
Do you live or go boating in an area prone to high winds? If so, you need to consider the durability of your changing room, as well as how it's installed. You want it to withstand your area's typical weather conditions.
5. Do You Have Safety Concerns?
If you have young children using your changing room, consider safety precautions before buying. Read labels and packaging thoroughly. Study zippers, hooks and hardware to determine safety. Call the manufacturer to ask questions. Make sure there have been no safety recalls or complaints.
6. Where Is the Best Location?
Another thing to consider is the placement of your changing room. Where will you need to place it, according to your needs and the installation instructions? Then decide if the type you buy provides enough privacy for your needs.
5 Pontoon Changing Room Options
Changing rooms come in all forms, shapes and sizes. You can find them in pop-ups, drop-downs/partitions, privacy screens/dividers, combos, bow-enclosures and even custom built.
Your choice of changing rooms will depend on your budget, your pontoon size and your overall needs, so the ultimate choice is up to you.
Here are five top-notch choices you'll want to investigate.
1. Collapsible Pop-ups
Pop-up changing rooms are like camping tents; they pop up when you need them and collapse to take up minimal space—perfect for smaller pontoons.
This GigaTent Pop Up Pod (Available on Amazon) is a pretty affordable changing room option.
There's no installation or mounting involved. None. Just find the best spot and open it where you want it. (Some have no floors, and some have removable mat floors.)
This pop-up pod can be fully enclosed for privacy, accessible by a zippered door.
Made to be taken onshore, this changing room has sand-bag pockets to make the pop-up much sturdier. Alternatively, it has sewn-on loops with stakes. Now, as a warning, the stakes are short so if you plan on taking it onto the beach, I'd highly suggest longer sand stakes (Available on Amazon) to keep it from catching wind.
The downside to certain pop-ups (and this one is the case) is the lack of screen ventilation or windows, so it can get pretty hot in there!
2. Changing Room Combos
These are similar to pop-ups, but contain a little something extra, offering more features and accessories.
There's a floor mat for showering, should you ever need to rinse off sandy feet or go pontoon camping and sleep multiple nights on your boat. There are even extra storage compartments for keeping toiletries and a hanger for towels and a fresh change of clothes. (Do you know a lady who brings extra clothes? I know I take extra!) Plus, a built-in clothesline is awesome because spilling a drink on your clothes is par for the course on a boat.
This Campla Portable Pop up Dressing/Changing Tent (Available on Amazon) is an affordable pontoon changing room option.
This changing room also comes with a convenient carrying bag!
For taking onshore, there are stakes but I'd recommend getting longer sand stakes to secure it in high winds.
3. Drop-down/Partitions
Drop-down changing rooms are made to attach to your pontoon bimini top. Some boaters feel they look best and provide more privacy.
One such drop-down changing room is the Carver Industries Boat Bimini Top with Adjustable Privacy Curtain (Available on Amazon). This drop-down partition has a universal fit that should work with any bimini top and one-inch polypropylene straps for easy-peasy attachment and installation.
The straps even have quick-release buckles for taking down when storms hit! In fact, this drop-down partition is made of marine-grade polyester (Poly Flex), which makes it durable with high tear strength, allowing it to last for many boating seasons!
4. Pontoon Bow Enclosures
Pontoon enclosures can fit over the lounge area and even across the bow, providing shade and shelter for passengers. But with the variety of pontoon enclosures available, you can also find one that doubles as a changing room!
This Taylor Made Bow Enclosure (Available on Amazon) with a zippered entryway allows passengers some extra privacy. The best part about using this enclosure as a changing room is its overall size and height, meaning you don't have to shimmy into a swimsuit while performing a balancing act in a 4-foot square box! You can actually rest on the pontoon bench seating.
Like most of these changing rooms, however, they're not made for long-term use or while underway. While the hardware is permanently mounted, it's not strong enough for high winds and is safest when removed.
5. Custom Built
If you know a handy carpenter, you can have a changing room specifically designed, built and installed on your pontoon.
Depending on design and installation, it may or may not be permanent.
While they're often more expensive, they're also built sturdier and considered more convenient.
The Best Pontoon Changing Room for You
With lots of changing rooms available, you're sure to find one to suit your needs and budget. But always do your research before buying.
A few more tips before making a final decision: 
Check all reviews on as many sites as possible.
Ask your boating friends for their opinions.
Visit marinas and ask owners who own what you're interested in.
Get current owner contacts from manufacturers.
A little research goes a long way. There's a changing room for all your pontoon needs. Happy hunting!
For All Your Accessories and/or Vinyl Flooring Visit Pontoon-Depot's Shop Site.