Pontoon Boats: The Do-It-All Machine - BoatingIndustry.com
Pontoon Boats: The Do-It-All Machine - BoatingIndustry.com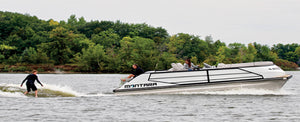 By: Boating Industry
Pontoon versatility continues to drive popularity, growth

In an industry-wide seventh consecutive year of growth, the pontoon segment continues to get more people on the water and keep them there.

Pontoons remain a key driver for the marine industry, and that's going to continue in 2019, Statistical Surveys, Inc. (SSI) director of sales Ryan Kloppe said. "Pontoons will top 56,000 units in 2018. They just keep getting better, and have truly become a crossover boat."

Kloppe said that SSI is anticipating around another 3 percent in growth for 2019. "It's one of the categories that's actually carrying the industry in year-over-year growth," he said.

From first-time boat owners to longtime boaters switching segments, the pontoon segment refuses to be left behind.

"One of the things we've noticed is that the segment has been firing on so many different cylinders and is so broad based in terms of where its drawing its business from," Info-Link director of client services Peter Houseworth said.
In terms of consumers in other segments converting to the pontoon life, Houseworth said that the segment bleeds are very balanced all-around. "We're not seeing a single group from a single segment converting," he added.
Houseworth said that growth within the pontoon segment has been going on for the last 20 years, however it hasn't always been as visible because of all of the other gyrations of the market during that time period.
Hand-in-hand with pontoon popularity, the continued demand for outboard power certainly helps continue to make pontoons an appealing choice for today's consumer.
"Pontoons are ultimately one of the key driving forces in outboard popularity," Kloppe said. "However, it's definitely a combination of outboard popularity driving pontoon popularity, and vice versa."
Aside from raving popularity that began in the Great Lakes and Texas markets, the pontoon segment has been branching into new markets in increasing popularity over the last few years.
"Pontoons and their popularity are now a nationwide thing, rather than just occurring in certain places," Houseworth said. "Florida, for example, hasn't been a big pontoon state historically, but is now seeing big growth as a segment."
"These boats will be around for a long time and in more and more territories," Houseworth added.
EXPLORING NEW TERRITORY
With the popularity of pontoons continuing to rise, the industry has seen new players enter, or re-enter, the market at an accelerated rate.
After exiting the marine business in 2004, Polaris Industries Inc. busted its marine doors back open in May 2018 after signing a definitive agreement to acquire Boat Holdings, LLC, boat manufacturer of four well-recognized brands: Bennington, Godfrey, Hurricane and Rinker, in an all-cash transaction valued at a net present value of approximately $805 million.
"We started looking at Boat Holdings in early 2017," said Scott Wine, Polaris Industries Inc. chairman and CEO during a conference call discussing the acquisition. "We've been looking at the marine space for four or five years. We look for great products and great brands, and they have both."
During Q3 2018, Polaris reported that Boat Holdings was already tracking to its early expectations.
Polaris reported boat segment sales were $134 million in the 2018 third quarter, slightly better than expectations, the company stated in a news release. Reported gross profit for the boat segment was $20 million, or 15.1 percent of sales in the third quarter of 2018.
"We were pleased with the early performance of Boat Holdings, the largest manufacturer of pontoon boats in the U.S. that we welcomed to our growing powersports portfolio earlier in the quarter," Wine said.
Although not completely new to the marine industry, following the creation of a new Marine Group and the acquisition of Alumacraft, BRP entered the pontoon segment with the acquisition of pontoon manufacturer Manitou in August 2018.
"Manitou's strong brand, high quality pontoons and recognized technology made it a natural fit for BRP's newly formed Marine Group," said Tracy Crocker, President of the Marine Group. "With the acquisition of Manitou, we are strengthening our marine portfolio by entering the fastest growing segment in the boat industry."
The segment also saw the return of the Premier pontoon brand, when the manufacturer emerged from Chapter 11 bankruptcy in March 2018.
The company announced that the reorganized Premier was to remain a Wyoming, Minnesota-based company with its current workforce in place. Premier's exit from Chapter 11 authorized a change in ownership to a Minnesota-owned company, Premier Pontoon Holdings, LLC.
"The Premier team has worked tirelessly over the nine months to assure we continue to build high-quality pontoon boats as an industry leader," said Rick Gallagher, Premier's new chief executive officer.
Gallagher served as Premier Marine's financial advisor while the company was operating in Chapter 11. The company filed for Chapter 11 on June 19, 2017. Unlike Chapter 7 and Chapter 9 bankruptcies, Chapter 11 bankruptcy gave Premier Marine a chance for a
full restructure.
Following the announcement, Premier quickly moved to establish new agreements with most of its existing vendors.
Relatively new to the market, Barletta Boats of Bristol, Ind. made a name for itself rather quickly in the pontoon world, signing on dealerships in over 70 locations in its early stages, with no signs of slowing down.
Barletta's 110,000-square-foot manufacturing facility roared to life in June 2017 and the company hasn't looked back since.
Most recently, Barletta penned a partnership with Walkers Point Marina, taking the company international and into Canada. The company continues to assemble its network of dealers across the country, and is now pushing to start adding high-caliber dealers in the Canadian market.
"We've have a very deliberate approach to adding new dealerships to our network," stated Jeff Haradine, Barletta's vice president of sales. "One of our guiding principles is too ensure that if we are going to partner with a dealership, we are able to provide the resources and product necessary to form a strong, mutually beneficial partnership. The timing felt right, and the Walkers Point Marina is exactly the type of dealership we love to partner with."
SUV OF THE WATER
Today's consumer in the boating world is consistently looking for one boat to handle a multitude of tasks. New technologies, designs, features and more in the pontoon segment are meeting those demands of the consumer.
"A combination of better engineering, fuel efficiency, speed and all-around versatility make pontoons a kind of SUV, do-everything type of boat for consumers," Houseworth said.
From the luxurious lines and ample space of Bennington pontoons, to the sleek and sporty Manitou designs, to the classic-look pontoons of Lowe, Misty Harbor and more, consumers are finding everything they need in a boat in today's pontoons.
Pontoons offer the boater a large social space for entertaining, a wide array power options, fishing applications, favored accessibility, near-endless options for customization and much more.
"Pontoons especially offer older boaters — which are the primary owner in today's market — the opportunity to take everyone out on the water, with accessibility, comfort and all-around easier boating," Houseworth said.
Ranger Boats recently announced the coming together of the fishing and cruising pontoons worlds with the introduction of the new Ranger Reata 223FC and 220FC.
The new boats combine features for both cruising and fishing into multi-use designs to accommodate families and anglers.
"We pride ourselves on listening to our customers and dealers on their wants and needs in our product lines," said Bart Schad, Ranger Boats vice president of sales and marketing. "We have incorporated that feedback into these new models to create an ideal fish/cruise line that exceeds the needs of everyone on board. Combined with the upgraded aesthetics throughout the entire pontoon line, we have seen tremendous response and look forward to officially bringing these new boats to market."
The new pontoons' fish-and-play design brings together a host of creature comforts for pleasure cruising and fishing features valued by anglers.
Pontoons also offer a variety of options for the entry-level boater, with ease of use and lower price points than entry-level boats in other segments.
In March 2018, Crestliner unveiled its new Sprint Series, an entry-level pontoon for novice boaters and those looking for on-water versatility. The Sprint came nearly a year after Crestliner re-entered the pontoon market with its Rally Series.
"The Sprint fills a hole in the pontoon market," said Crestliner President Eric Hendrickson. "There is a large contingent of boaters out there looking for an accessible pontoon they can hop into without hassle and use for a variety of on-water activities–from fishing to cruising and everything in between. Add to that an exceptional value, and the Sprint is exactly what a lot of families are looking for."
WHEN WORLDS COLLIDE
In an effort to further push the versatility of the pontoon segment, Minnesota-based Montara Boats announced an industry-first game changer.
In early October 2018, Montara announced it developed a patent-pending design that blends the worlds of surf boats and pontoons in the industry's first surf pontoon, including the comfort and space of a pontoon boat with the performance of an inboard surf boat.
"For the past 15 years I've watched neighbors and friends buy tow boats for water sports in addition to pontoons for entertaining. We've cracked the code on this and figured out how to blend these, creating the Surf Boss that does it all," said Montara CEO Mark Overbye.
Overbye is no stranger to the tow boat and tow sports world after serving as the founder and former CEO of both Moomba and Gekko. Overbye also serves as a chairman and trustee for the USA Water Ski and Wake Sports Foundation.
Montara's new Surf Boss is available in three lengths: 21 feet, 23 feet, and 25 feet.
Equipped with PCM inboard engines, the Surf Boss features competitive surf wakes, a fully enclosed head, over 100 cubic feet of storage, dual swiveling captains chairs, jumbo-sized dual transom loungers that flip from forward to aft viewing.
Overbye told Boating Industry that PCM sent two engines to Montara Boats for use in Surf Boss prototype testing. "I've had a great relationship with them for 20 years," he said. "We represent a potential entree for them into a huge market segment. The tow boat segment is roughly 10,000 units; the pontoon segment last year was roughly 52,000 units. If we have success with this, this should really open up some market floodgates."
Features of the new pontoon include a 110-gallon fuel tank, a changing room, Zero Off GPS speed control, a 5,000-pound plus ballast system, custom tandem trailer, Rockford's premium audio system, carrying capacity exceeding 20,000 pounds for people and gear plus a top-end speed that tops 40 miles per hour. A custom tower with dual Biminis, speakers and lights that retracts into the hull compliments the Surf Boss's design.
"The concept of combining surfing and pontoons clearly struck a positive cord with the marine business at large," Overbye said.
Since announcing its Surf Boss surfing pontoon in mid October, Minnesota-based Montara Boats has welcomed 27 dealers to its retail network and has more than 23 additional dealerships pending.
Overbye said that the team at Montara already has more ideas on the drawing board to further the limits of pontoons that the industry could see even four or five years down the road.
With the segment showing no signs of slowing in growth, and continued versatility and new technology coming to market, pontoons will remain a major player in the future of the industry.   
For All Your Accessories and/or Vinyl Flooring Visit Pontoon-Depot's Shop Site.