Things to Do at Lake Powell This Winter
Things to Do at Lake Powell This Winter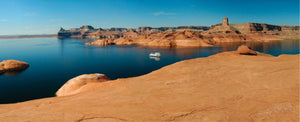 Cool breeze. Quiet surroundings. Calm waters. A Lake Powell vacation in the winter can be quite the serene experience. Unlike summer, the busiest season for the lake, winter on the water means better fishing conditions and more hiking opportunities. At Antelope Point Marina, we know that the fun doesn't stop after Labor Day weekend. Here are a few of our favorite things to do at Lake Powell during the winter months. 
Rent a Houseboat
The best way to enjoy a Lake Powell vacation in the winter is by renting a houseboat. You and your family can spend quality time together away from the hustle and bustle of the busy holiday season. In fact, we have many families who prefer to spend their holidays on a houseboat. With a fully equipped kitchen and grill onboard, you can whip up an easy holiday feast in no time. Thinking about spending your Thanksgiving at Lake Powell? We talk about how to prepare your meal on a houseboat in this post.
Other fun wintertime activities while on a houseboat vacation include; a campfire on the beach, stargazing, fishing, hiking, sightseeing and more.
Fish
Houseboating and fishing go hand and hand. Both are great ways to relax and unwind while enjoying nature. Worried the fish won't bite this time of year? Nonsense. Lake Powell is known to have great fishing all year long, no matter the temperature. Cast your reel off the back of your boat and you could catch various types of bass, walleyes and crappies. Make sure to obtain an Arizona fishing license and pack your tackle box before you head out.
Hike
Fall and winter are the best times to hike around Lake Powell. The weather has finally cooled off making the several-mile hikes much more tolerable. We encourage those adventurous spirits to go on at least one hike in the area, as there are many to choose from. Whether you're headed to the lake to spend a few days on the water, or merely stopping by for a short day trip, you won't find sights comparable to those of the canyons and monuments nearby.
To help you narrow down your "must-see" list, we recommend the following…
Destinations you can reach by boat:
Destinations you can reach by vehicle:
With so many things to do on and around Lake Powell this winter, why not make a couple-day vacation out of it? Antelope Point Marina offers houseboat, watercraft and pontoon boat rentals for your enjoyment. Give us a call at 1-800-255-5561 to begin your reservation today.
For all your accessories and/or vinyl flooring visit Pontoon Depot's shop site.