Tips for Registering your Boat | Pontoon Depot
Tips for Registering your Boat | Pontoon Depot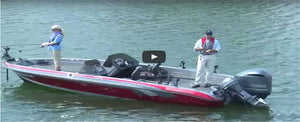 (see actual video below)
For fun, safe boating - get registered!
Just like a car needs to be registered before you can drive it, your boat must be registered before you can take it out on the water. Registering your boat is an important, responsible part of boat ownership.
Rules for boat registration vary from state, so it's important to know the laws in your state before you ever put your boat in the water. Most states publish their boating registration rules online.Typically, boat registration is handled by a state's Department of Motor Vehicles or Fish and Wildlife agency, so if you aren't certain about your state's laws that can be a good place to begin.
When you register your boat, you'll need to complete an application, and you'll pay a registration fee. This is in addition to any sales tax or boat titling fees you may have paid when you purchased your boat. Most states now offer both online and in-person boat registration, so you can choose the process that's easiest for you.
Once you complete the process, you'll receive a certificate of registration - this certificate must be displayed on your boat before you hit the water. And, depending on the size and type of boat you own, you may also need to display registration numbers and validation stickers on your boat.
Boating Licenses
Another common question that comes up is about boating licenses - specifically, if you need one or not. Most states do not require a license to pilot a boat. However, many do require approved boating safety education courses for boaters of a certain age. Check with your state to determine the specific guidelines, and find an approved course.
Registering your boat is an important step that helps keep boating safe and enjoyable for everyone, and helps protect your state's waterways. With just a little time you can learn your state's requirements and take steps to ensure your boat can legally operate on your state's waters. Have fun out there!