PONTOON PARTY IDEAS: MUCH MORE THAN JUST FISHING AND TUBING
PONTOON PARTY IDEAS: MUCH MORE THAN JUST FISHING AND TUBING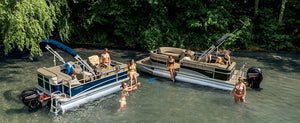 Traditional pontoon boating pastimes like fishing, swimming, skiing, and tubing are always good for hours of summer fun. And the merits of just plain relaxing cannot be overstated. But seasoned boaters at times find themselves asking, "How can I shake things up and break from the norm?"
Because of their size and large decks (in some cases double-decks) pontoon boats are vessels meant for festive gatherings. Whether it's an adults-only party or camping with the kids, pontoons provide a venue for a wide variety of good times on the water. Below are just a few creative ideas.
Floating Pontoon Dinner Party
Pontoons can be equipped with all kinds of grilling and food-storage artillery, so it's easy to host a dinner party on the water. The possible themes are endless. You can choose an ethnic or regional theme like Japanese or Midwestern, or go nautical and serve "Flank Speed Flank Steak" and "Buntline Bunt Cake," or just take an old standard like the simple fondue party and modify its traditions — anyone who loses bread in the pot buys a round of drinks at the dockside bar. There's no shortage of ways to get creative.
You could also reduce your prep time with a potluck dinner party. Or, get everyone into the on-deck cooking with a floating competition à la Iron Chef.
Get Your Game On, Pontoon Tournament Style
Breaking out the cribbage board or chess set on the pontoon is often a spontaneous thing, but such games are also perfect for tournaments, which can serve as the focus of the gathering and keep conversations flowing and seats shuffling. The games help fill in conversation gaps and maximize the mingling.
Also, a simple invite to "spend the afternoon on the boat" can be aggrandized into the "Seventh Annual Lake George Pinochle Tournament," for example. It becomes an event traditions can be formed around.
If you have a friend with a pontoon on the same lake, more extravagant tournaments are possible, such as bean-bag toss with cornhole boards placed on separate, anchored boats. (If you miss the pontoon with your toss you have to dive in and get it, of course.) For other games you can have winner- and loser-bracket boats.
(picture by Harrisboats)
Birthday Party On A Pontoon
In addition to being a respite for parents, pontoon boats make terrific kid-party venues. Don't limit yourself when throwing a birthday bash on the water. Deck your pontoon in a fun theme like tiki Hawaii or pirate shipwreck to make your child's birthday party a fantasy adventure. Kids having too much fun can slide down "the plank" if your boat has a slide.
Pontoon Club Gatherings
Any kind of club can convene on a pontoon boat, making the meeting all the more entertaining and memorable. Cruise the open waters as your book club discusses the most recent read. Or, get a beer and wine club together and sample cocktails under the setting sun. Where better for an environmental studies or bird-watching club to gather?
Pontoon Boat Block Party
Pontoon boaters tend to have several like-minded friends who frequent the same waterways or docking areas. A pontoon boat block party operates just like a regular block party, with the added fun of boat hopping to chat with the "neighbors."
Kick the pontoon boat party up a peg by making it a progressive dinner party where boaters start on one boat for appetizers and aperitifs, then move on for the first course, then to another boat for the main course, and then to another boat for dessert.
A riff off that idea is to have each boat feature different cuisine from different regions of the country or the world, or for each boat to prepare a different seafood dish. The possibilities are endless.
Pontoon Camping Adventures
Pontoon boat covers provide plenty of protection for sleeping under the stars on the water. Grab a group of friends, a bag of marshmallows to toast over the grill, and some flashlights and spend the night sitting on the deck telling stories about what lurks beneath the surface. This is also a fun thing to do with the family or with children's parties or scouting groups.
Personalize It
With limitless options for fun on the water, the most important thing is to make your pontoon party suit your style. Take these ideas and make them your own with twists that match your personality. Or, let this be the guide that sparks your imagination to develop your own uniquely branded pontoon extravaganza.
Post your pontoon event pictures to our Facebook or on your Instagram with hashtag #MariDeck. We would love to see your photos and will even share if they catch our eye.
By: HarrisBoats