Pontoon Boat registration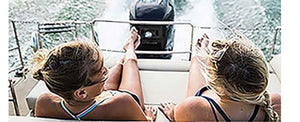 PONTOON BOAT MAINTENANCE TIPS | PONTOON DEPOT
By: Cypress Cay Pontoons
Your pontoon, much like your car or house, is an investment that you can have for years to come with the proper maintenance. To that end there are some very simple steps you can take to keep it in the best shape possible.
WASH YOUR PONTOON
A basic and frequently overlooked step for keeping your pontoon in shape is to wash the exterior on a regular basis. You don't really need any specialty soaps either; the soap you would wash your car with will work.


MAINTAIN UPHOLSTERY
To keep your pontoon furniture looking new, there are some basic maintenance steps you can take. You'll want to do a bi-yearly deep cleaning and fairly frequent cleaning of the surface material which we will discuss below.

1) Keep your furniture and flooring as dry as possible by wiping down seats and opening hatches when the boat isn't in use. Allowing things to dry out prior to covering your pontoon will help to reduce the opportunity for mold and mildew to thrive. 

2) To keep your aluminum panels from streaking be sure to rinse them off with water and a mild detergent on occasion, erasers sponges work as well (always test them in a small corner to make sure they aren't going to cause any damage to the panel). Always make sure to completely dry the aluminum off when finished cleaning.

3) A mild soap and water solution is all you'll need for your normal cleaning of the high quality marine-grade vinyl used on Cypress Cay pontoons. Any stubborn stains might require use of a nylon brush or marine vinyl cleaner. You'll want to test the cleaner in a small inconspicuous location before attempting to clean the entire piece.
4) When it comes to cleaning and maintaining your vinyl furniture, always refer to the Owner's Manual.

MAINTAIN YOUR ENGINE
Let's face it, without the engine, you have a rowboat! You definitely want to have the engine running like the day you bought it, especially when you're out on the lake. There are a few simple steps that can be taken to make sure your engine remains in tip-top shape. They are detailed in your Engine's Owner's Manual in the Maintenance and Care section.

Keep in mind that your pontoon, much like your car, has a lot of moving parts and those parts need to be maintained. 

These are just the basic steps for keeping your pontoon looking like it's straight off the show floor. Keep in mind there are extra steps you'll want to take to winterize your boat and also when getting it ready for its spring re-launch every year. You can find information about this and so much more in your Owner's Manual or by visiting cypresscaypontoons.com.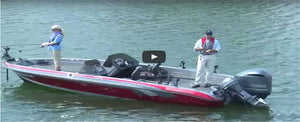 Tips for Registering your Boat | Pontoon Depot
(see actual video below)
For fun, safe boating - get registered!
Just like a car needs to be registered before you can drive it, your boat must be registered before you can take it out on the water. Registering your boat is an important, responsible part of boat ownership.
Rules for boat registration vary from state, so it's important to know the laws in your state before you ever put your boat in the water. Most states publish their boating registration rules online.Typically, boat registration is handled by a state's Department of Motor Vehicles or Fish and Wildlife agency, so if you aren't certain about your state's laws that can be a good place to begin.
When you register your boat, you'll need to complete an application, and you'll pay a registration fee. This is in addition to any sales tax or boat titling fees you may have paid when you purchased your boat. Most states now offer both online and in-person boat registration, so you can choose the process that's easiest for you.
Once you complete the process, you'll receive a certificate of registration - this certificate must be displayed on your boat before you hit the water. And, depending on the size and type of boat you own, you may also need to display registration numbers and validation stickers on your boat.
Boating Licenses
Another common question that comes up is about boating licenses - specifically, if you need one or not. Most states do not require a license to pilot a boat. However, many do require approved boating safety education courses for boaters of a certain age. Check with your state to determine the specific guidelines, and find an approved course.
Registering your boat is an important step that helps keep boating safe and enjoyable for everyone, and helps protect your state's waterways. With just a little time you can learn your state's requirements and take steps to ensure your boat can legally operate on your state's waters. Have fun out there!