WHY A PONTOON BOAT RIDE SHOULD BE ON TOP OF YOUR BUCKET LIST
WHY A PONTOON BOAT RIDE SHOULD BE ON TOP OF YOUR BUCKET LIST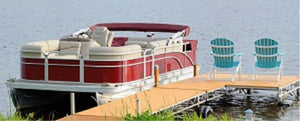 For many people going on a family vacation for the first time, the idea of looking for a pontoon boat for fishing or a small party can seem rather far  fetched. The assumption by many is that you have to own one, and this is very expensive.
Pontoon boats are among the best ways to get families onto the water as they have enough space to fit an entire family. They are easy to handle even for people boating for the first time. A pontoon boat ride is something every family member will enjoy.
Of course not everyone has the financial ability to own a pontoon boat. But the good thing is that you can still rent one. You just need to have the necessary information when leaving for your vacation. Some of the questions that are frequently asked center around whether there are any credentials or licenses required before renting a pontoon boat.
Easy process
The truth is that renting boats is a straight forward process. So of you are thinking of renting a pontoon boat for the first time, don't feel intimidated. There is not too much paperwork involved. As long as you are 18 years or older, you are eligible. Different rental companies have different age limits, so you might have to inquire about this first.
Peak season
Memorial Day weekend through to the summer is always the peak season for pontoon boat rentals. So if you are planning for your summer holidays, you may want to start making inquiries early. You are best advised to make your boat reservation well in advance of your plans. Searching for one in the middle of summer can lead to disappointment. At the same time, when you make your reservation early, you are very likely to pay less.
Ease of operation
Pontoon boats have stable platforms that are easy to master when launching or cruising on the water. They also have pull-up cleats around the deck that make it easy to pull up or dock from all angles. If you are docking late in the evening, remember to switch on the docking lights.
Versatility of pontoon boats
Their large, spacious floorboards together with a lot of sitting space means that everyone in the family, irrespective of age can enjoy the unique boating experience that a pontoon boat ride is perfect for families. There are also many activities that you can enjoy while on a pontoon boat including tubing, fishing, sunbathing, grilling or just enjoying a day out on the water.
If you are bringing your kids along, there is enough room for them to play around. They can even invite their friends if they want to. There is plenty of room for everyone to have fun.