fishing tips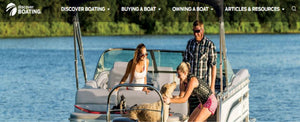 Discover Boating | Buying A Pontoon Boat | Pontoon-Depot!!
By: Discover Boating
The pontoon boat has undergone quite an evolution in the past few decades, and what was once a simple boxy floating platform is now a luxury-laden pleasure-boat that can offer everything from a relaxing day on the lake to invigorating thrill rides. If you haven't been on a modern pontoon you've got to step aboard one to believe just how amazingly advanced—and comfortable—the best pontoon boats have become.
Activities You'll Most Enjoy
Pontoon boats are loved in all corners of the nation because they can be used for so many different activities: watersports, swimming, day cruising, and of course just lounging about. There are fishing pontoon boats, performance pontoons with big outboard engines that will have you blasting across the lake or bay with the wind whipping in your hair, and luxury-oriented pontoons equipped with everything from a blender to a bathroom. There are big pontoon boats and small pontoon boats, you can get a pontoon trailer and explore far-flung waterways, and in all of these cases the options for what to do on your pontoon are essentially unlimited.
Perfect fishing platform
In some areas, you'll discover that there are more fishing pontoon boats than other types of fishing boats. The reason why is simple: they are amazingly stable and comfortable, they hold large numbers of people, and they make an ideal fishing platform. Added bonus: modern fishing pontoon boats have all the angling accessories you need built right in, ranging from rod holders to aerated livewells to tackle boxes.
Used for skiing, tubing, and wakeboarding
If watersports are your thing, today's pontoons won't let you down. The best pontoon boats for skiing, tubing, and wakeboarding have tow-bits, storage lockers large enough to hold water skis or knee-boards, and swim platforms with large, stable ladders for climbing on and off the boat. They also have plenty of power and can give the kids a safe but spectacular thrill-ride. Even small pontoon boats usually have all the basics you need to enjoy watersports on some level. 
"Party barge" to entertain family and friends
There's a reason pontoon boats are often called party barges, and it's quite simple: with oodles of deck space, excellent stability, and variable furniture arrangements, you can have a pontoon that's just as ideal for relaxing as a lake-side patio. The one difference—and what makes a pontoon boat even better—is that you're afloat instead of on land, and you can take the party wherever you'd like.
Pontoon Boat Brands
Explore brands to find more information on models and pricing.
Pontoon Boat Ownership Costs
Buying a modern pontoon boat can be just as expensive or as economical as you'd like, and there are pontoon boat prices that fit every budget. There are even some mini pontoon boats that cost far less than the most affordable new cars. When you research out the ownership cost of a specific pontoon boat, an important factor to figure in is storage or mooring costs, if you can't keep it on a pontoon trailer at your house. Visit our Boat Loan Calculator to learn more about what fits with your budget.
Maintenance Costs
You're not likely to encounter maintenance costs on a new pontoon boat for several years, beyond basic care items like cleaning supplies. Its engine, however, will have a regular required maintenance plan. These vary from model to model and manufacturer to manufacturer so to figure out just how much you'll spend on items like oil and filter changes, you should refer to the manufacturer recommendations. Note that most pontoon boats on the market today and the engines that power them carry substantial warranties that should protect you from unexpected maintenance costs for years to come.
Operation Costs
The main operational cost for a pontoon is fuel. Just how much you burn will depend on the size of the boat and engine, how often you use it, and how far you run it. You may also want to plan in insurance costs (see Insuring Your Boat for more information.
Pontoon Technology/Materials/Features
Of all the different boat types out there, pontoons have seen some of the biggest technological advancements in recent years. Today many boast touch-screens at the helm, and seats with space-age fabrics that are resistant to UV light, mold and mildew, and staining. 
As pontoons have become more advanced they've also become better-equipped. You can find models with rather extreme stereo systems, fully-equipped wet bars, and even things like automatic sunshades that rise at the press of a button. In fact, if you look at the list of optional features on a high-end pontoon you'll see that often goes on for pages and pages.
For All Your Accessories and/or Vinyl Flooring Visit Pontoon-Depot's Shop Site.