Best Halloween Ever | Pontoon-Depot
Best Halloween Ever | Pontoon-Depot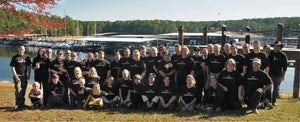 Just as some northern houseboat owners are packing it in for the season, the folks at Tradewinds Marina, on Lake Thurmond, are gearing up for fall and winter. Lake Thurmond is a deep, beautiful, 111-square-mile-lake, located on the border of Georgia and South Carolina, near Augusta. With 1,200 miles of shoreline, surrounded by the Sumter National Forest and limited to 5 percent development, it is a magnet for bass fishermen and pleasure boaters.
Granted, it is hot in the Georgia summer, but its moderate weather the rest of the time, makes this lake a year-round playground for diehard boat owners. Tradewinds Marina is home to an interesting mix of houseboat owners who definitely consider themselves family, and tend to spend all their weekends and especially holidays, together.
Sunset Dock has formed its own "Camp Rainbow," when on any given afternoon, dozens will be cooling off in the lake right off the sea wall or toasting the magical sunsets which give the dock its name.
Party Central
When you want to find a poker game on Saturday night, there is no doubt you'll find a game (or two). Cigar smokers just need walk over to "D" dock, where the discussions are infused with the distinct smell of tobacco. Camaraderie abounds and thoughts of home or work seem to disappear. Holidays mean special times at Tradewinds Marina. Memorial Day and Labor Day are celebrated with beach-themed parties, as dozens of boats spend the weekend on one of the sandy shores around the lake. Sunning, swimming, barbecues, bonfires and movies under the stars bring everyone out.
The Best Of All
New Year's Eve is a raucous and fabulous evening, but most people can't quite remember it the next day. As you can tell, holiday celebrations and parties are legendary at this marina, but none is more anticipated than Halloween, when being outrageous is an accepted practice, and creativity is applauded!
Plans for the 2011 Halloween Goblin Gala began in early September, when Mike Parlier suggested that the marina invite Houseboat magazine to its annual celebration of all things horrifying. 
Game Plan
At that point, plans jumped into high gear. Although there was no formal "committee," a small group took charge of making this event memorable. 
Each year, this party seems to get bigger, so the group decided to expand its party location. The plan was to have a "progressive" fright night that would kick off on "D" dock with spooky drinks and hors d'oeuvres. Then move to "C" dock for spookier drinks and Richard and Carla Smith's chili and fixins' dinner. Then cap off the evening on Sunset Dock for dessert, coffee bar, and actual Witches Brew. 
One person from each dock took charge of their respective docks for the evening; Melanie Villamein for the first course "D" dock, Mike Parlier for the "C" dinner dock, and Meredith Ray took on the desserts to be served on Sunset Dock. Each of them was responsible for getting the word out to boat owners in their respective area, coordinate the various menus and music and to encourage boat owners to creatively decorate for the evening.
This group also organized a post Halloween brunch, which would be held at a cabin at the marina. One thing you can be sure of, you will never go hungry with this group.
A Spooky Place
Houseboat decorating began in earnest on the Thursday before the Saturday night party. It is amazing what is stored in boat holds! Out came colored lights, spider webs, skeletons, ghouls, assorted nooses and tombstones.
The docks and the ramps became creepy labyrinths. The houseboats completely transformed into haunted houses, complete with resident ghosts and goblins; eerily lit and emanating sounds of horror and fear. Ghosts flew in the wind, shrieking skeletons dropped to greet you as you boarded the boats, carved pumpkins flickered in the darkness, and each boat offered bowls of scary treats. Everyone seems to add to their collection of decorations, and the atmosphere gets more bizarre according to the regulars.
As the sun went down, the dock party began to get going in full swing. The costumes were amazing, and even in face paint, mummy gauze, witches hats and pirates leggings, everyone managed to be an adorable (if not scary), bunch.
The annual costume contest was won by Steve and Desiree Wolf, unrecognizable in their witch and goblin face makeup. They took home the coveted "Headless Pumpkin" trophy. There was an entire cast of Gilligan's Island, and Amy and Hannah Masiongale were pirates that would have put a spell on Jack Sparrow himself!
Mike and Angela Parlier made a gruesome twosome, and the real coffin, complete with body, on Tommy King's front deck, was a fright to behold. Costumes ranged from NASCAR to Neverland, cowboys to aliens, flower children to Flintstones and an absent Jim Masiongale head on a stick. Decorated tables held all the food and drinks of all types flowed endlessly.
Party participants traveled between docks by foot, or by decorated pontoon boats, which doubled as pirate ship water taxis. Dance music played atop many of the boats, with country songs mixing with Carolina beach "shag" tunes bringing out the dancers. Almost 250 revelers celebrated the spirit of the haunting season through the night and well into the morning.
Don't Forget Food
Seemingly, none the worse for wear, the houseboaters met for the customary holiday brunch the next morning. Again, everyone attending brought a favorite dish. Southern breakfasts tend to be very eclectic, with everything from fried chicken to anything containing bacon. Between the biscuits and gravy, the eggs and the grits and hash brown casseroles, the world seemed to fly by in a carbohydrate laden haze.
Everyone was decked out in their new "I Love Houseboating" t-shirts, which we brought along. The pace had definitely slowed from the night before. The topic at brunch: how could they possibly top this party next year? With this bunch, there is no doubt; they will find a way!
For all your accessories and/or vinyl flooring visit Pontoon Depot's shop site.